The first six overseas NGOs have received registration certificates for their Shanghai representative offices, and the Shanghai Public Security Bureau held a certificate-awarding ceremony on Tuesday.
The six NGOs in question are the Shanghai offices of Project HOPE, the Hong Kong Yin Shin Leung Charitable Foundation Ltd, the US-China Business Council, the Canada-China Business Council, the Chamber of Commerce and Industry of the Russian Federation and the Confederation of Indian Industry.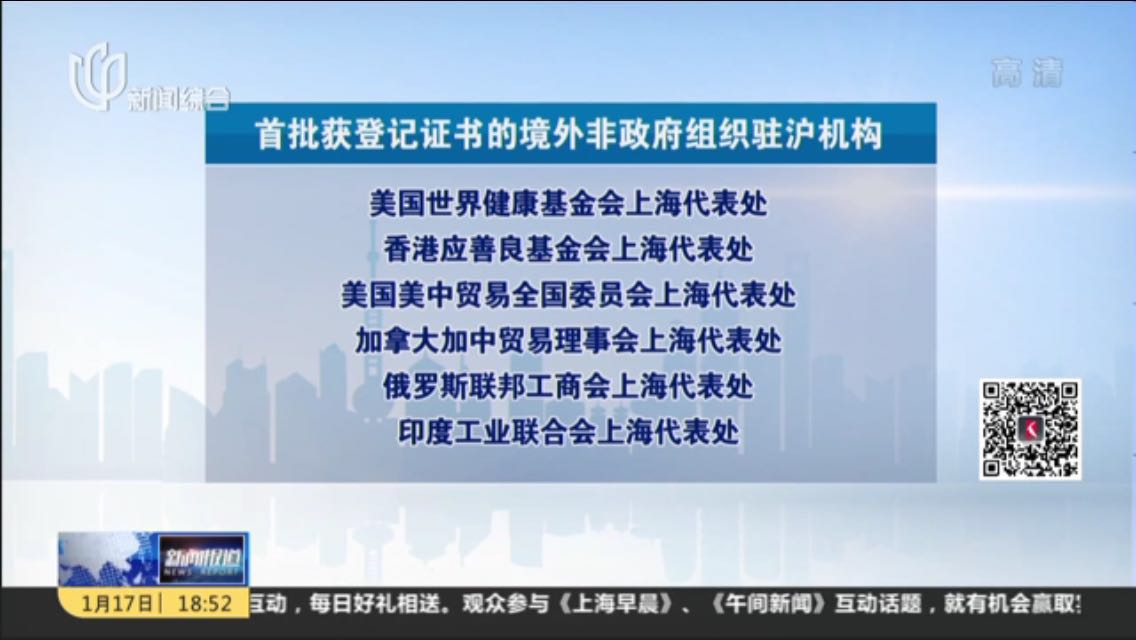 A list of the six overseas NGO
Photo credit to Kankanews of Shanghai Media Group.
Zhengjin, a representative of the Shanghai Municipal Commission of Health and Family Planning, the professional supervisory unit of the Project HOPE Shanghai Representative Offices, stressed that overseas NGOs have made tremendous contributions in the field of children's health, pushing forward the development of healthcare in Shanghai.
"The Shanghai Children's Medical Center, jointly established by Project HOPE and the Shanghai Municipal government, has become a leading children's hospital in China and has a reputation abroad," said Zhengjin.
China's Overseas NGOs' Law went into effect on January 1. In accordance with the Law, the public security authorities shall provide necessary services, protect the legal rights of overseas NGOs in China, strengthen international exchange, and play a bigger role in philanthropic development in China, said Hao Yunhong, head of the Overseas NGOs Administration Office of China's Public Security Ministry.