China's pet industry is booming. According to CGTN, the 2020 Pet Industry White Paper estimated that 63 million people in China owned about 100 million cats and dogs. While the paper shows that 80 percent of surveyed owners consider their pets to be family members and 15 percent of married couples see their pets as their children, recent news stories on animal cruelty, pet mystery boxes and the prevalence of strays have sparked public concern.
In September 2009 the first comprehensive animal protection law was drawn up, but was never passed into law. The reasons remain unclear and therefore, a lot of the work related to animal welfare continues to be done by small organizations. Recently, CDB talked to Xu Kailing, a representative of TA Shanghai, an organization based in the city which provides a platform to promote the welfare of stray animals.
Originally named Think Adoption, its name was changed to TA Shanghai about six years ago. While the name is the abbreviation for "think adoption", it also has another meaning. Xu explained that ta in Chinese can be written as "他 (he/him)", "她 (she/her)" or "它 (it)", so the name "TA" also indicates a relationship built between humans (他 and 她) and animals (它).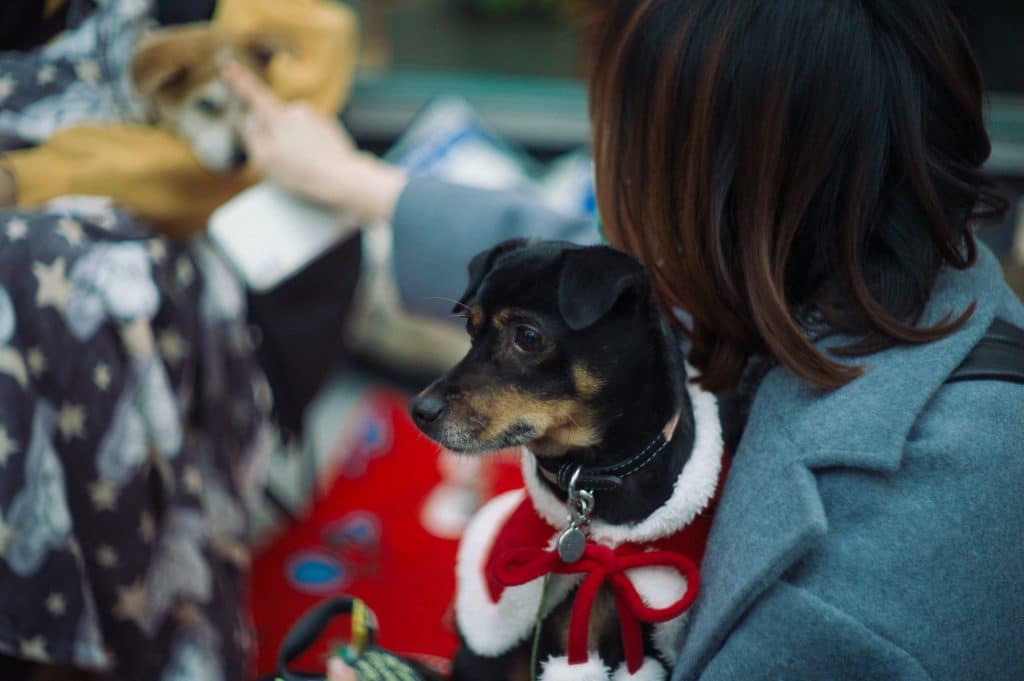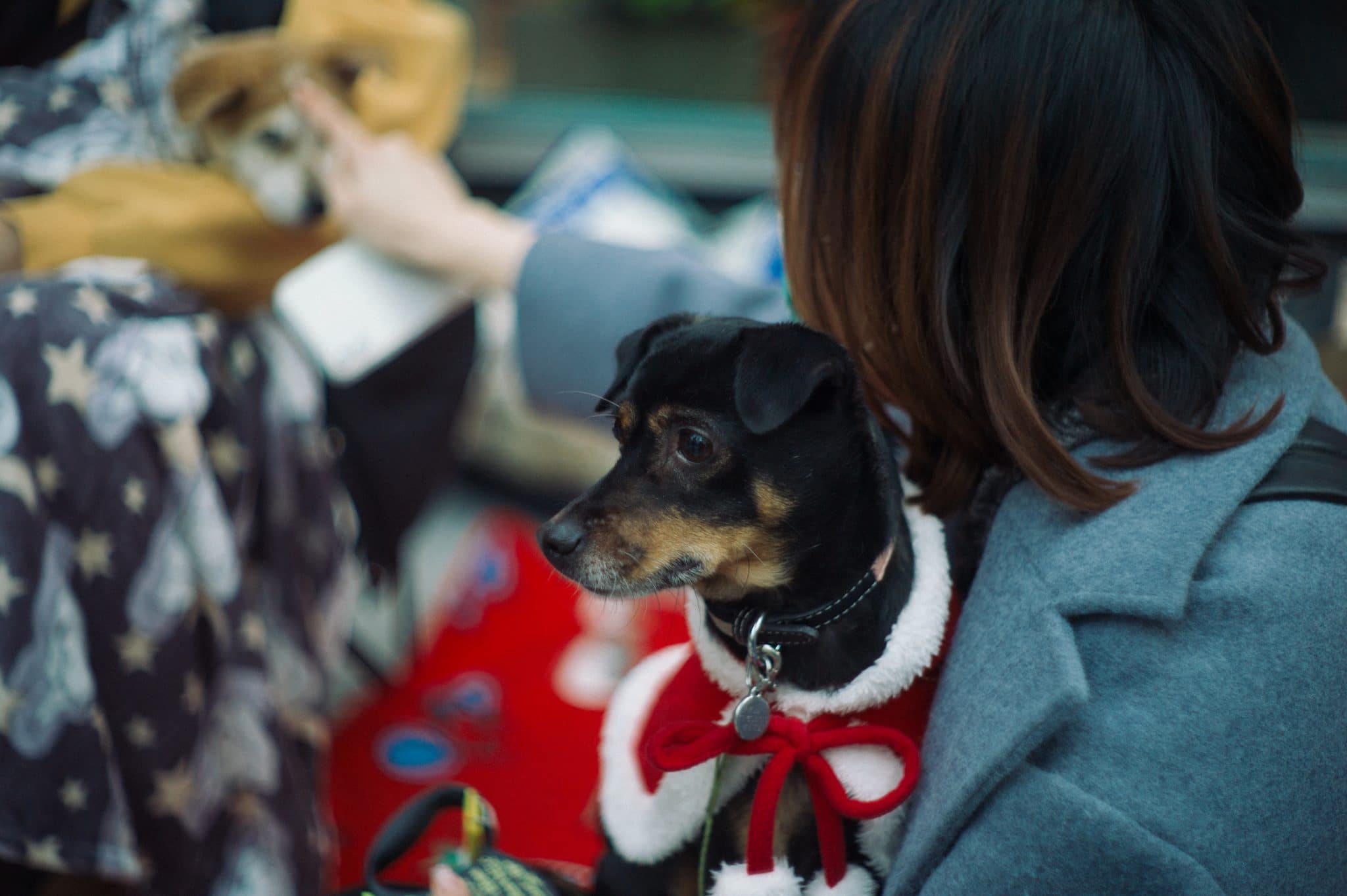 Xu started out as a volunteer with the organization before joining as a team member five years ago. As one of the most successful animal protection organizations in Shanghai, TA has attracted young people like Xu from a variety of backgrounds – all thanks to its concept and way of working.
The organization promotes aid and adoption as something enjoyable and encourages animal adoption using methods that are popular with younger generations. For the past few years, TA Shanghai has collaborated with a number of fashion brands as part of an effort to promote a lifestyle where people and animals can live in harmony. In addition, regular in-person adoption events are held in collaboration with shopping malls, where rescued animals are brought in allowing people to meet them.
While growing numbers of urban households now own animals, this has sadly led to an increase in the number of strays. The reasons for this include people moving to a new home and not wanting to take their animals with them, family members opposed to having an animal in the home, parents fearing their children becoming allergic to animal fur, and people refusing to take care of their animals once they get old and sick.
In order to reduce the number of strays in urban areas, TA Shanghai has designed programs that target both animals and people. Finding new homes for pets that have been abandoned is always the ultimate goal.
Rescues are carried out by organizations like TA Shanghai as well as individuals – and TA maintains contact with everyone involved.
"For each of our in-person adoption events, the animals are provided by local animal rescue organizations. After the event, animals who do not get adopted will return to those organizations and continue to be taken care of," said Xu.
When an individual rescues an animal, TA Shanghai will help them with finding an adopter by advertising the animal on its social media accounts.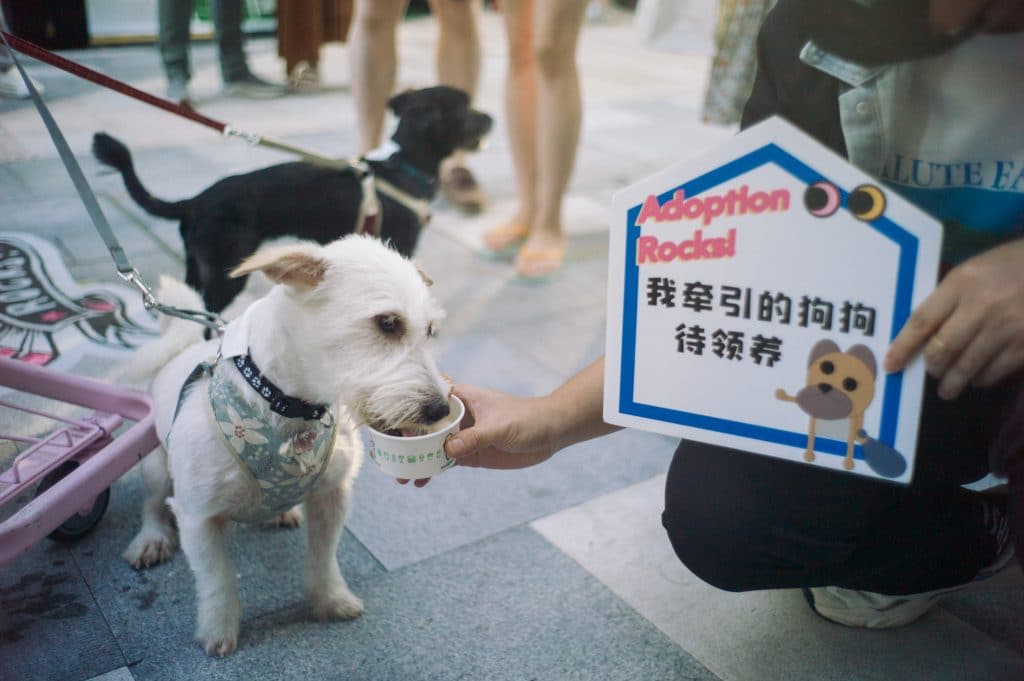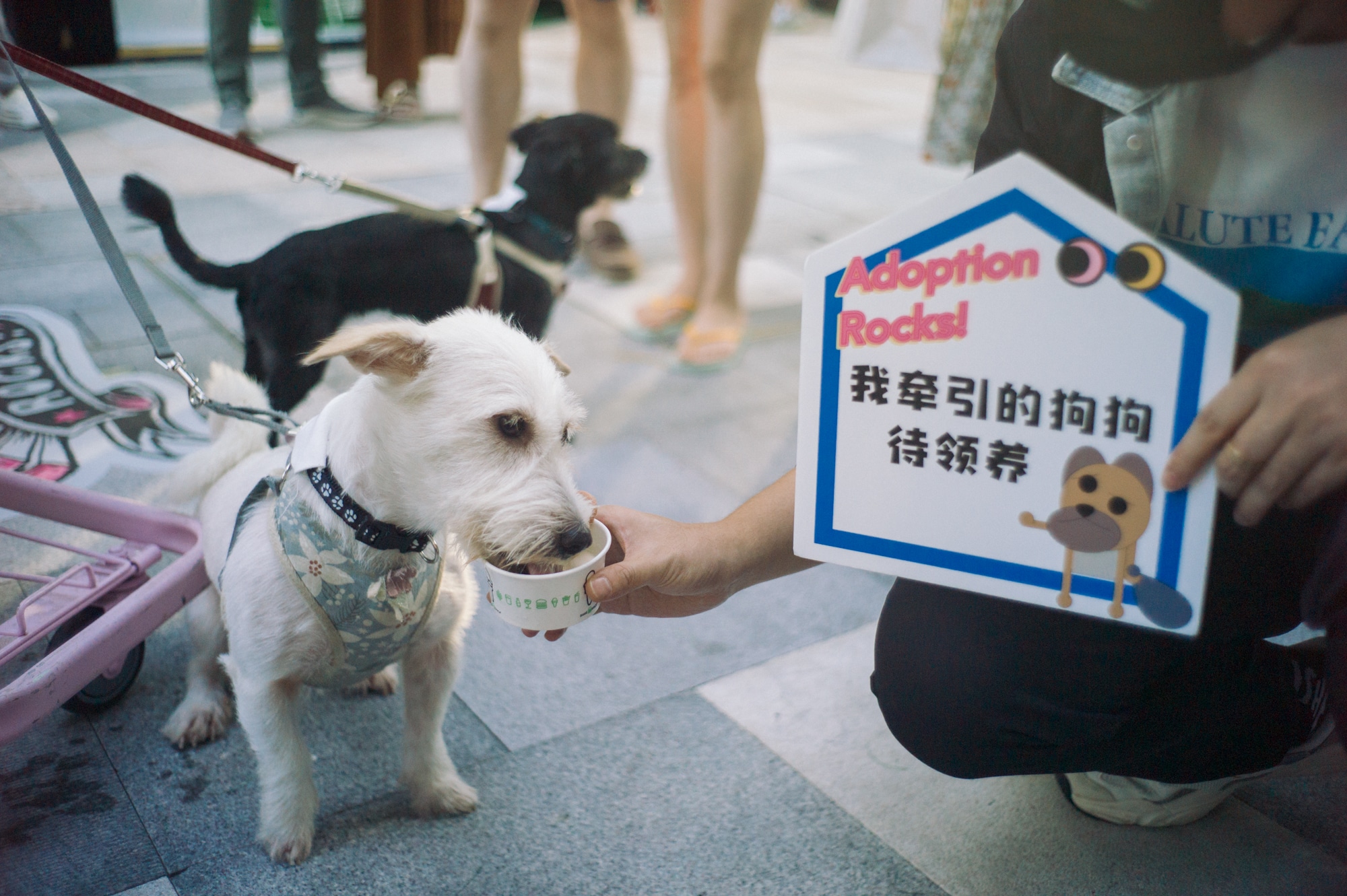 One reason that the number of stray cats and dogs has kept growing in China, according to Xu, is because they are often not sterilized. She says that without efficient animal welfare regulations, the increasing number of strays is likely to have two consequences: more animals will not be able to survive on the streets and the relationship between humans and animals will likely deteriorate.
In fact, sterilization is not only key to controlling numbers, but is also beneficial to animals' overall health. To help control the population of stray cats, TA Shanghai launched the TNR (Trap-Neuter-Return) program last year, which sterilized strays in neighborhoods, parks and universities. To encourage sterilization, the organization is also giving out TNR coupons to individual adopters so they can get a discount when they use certain pet hospitals for the procedure.
Other programs run by TA Shanghai focus on raising public awareness of the situations stray animals face, and educating people about animal welfare and adoption. Guidelines and tips for animal aid and care as well as interesting animal stories are regularly published on TA Shanghai's social media accounts, giving people more information and encouraging them to take part in discussions on how animals can best integrate into people's daily lives.
"It is important that people make their voices heard in these discussions and reflect on how they can act to care for animals, especially the homeless ones who share our public space," Xu said.
To support people who regularly feed stray cats, TA Shanghai has collaborated with Moboli, a pet products company, and donated special cat bowls that can hold both food and water. People can easily apply for the cat bowls through the organization's official WeChat account.
Workshops on animal protection and adoption are also organized, with some held in schools. Businesses and celebrities have taken part in a number of the organization's events. In 2019, Xu spoke at a TED talk in Shanghai's Fuxing Park. Her talk focused on human-animal friendships and the relationship between urban residents and city strays.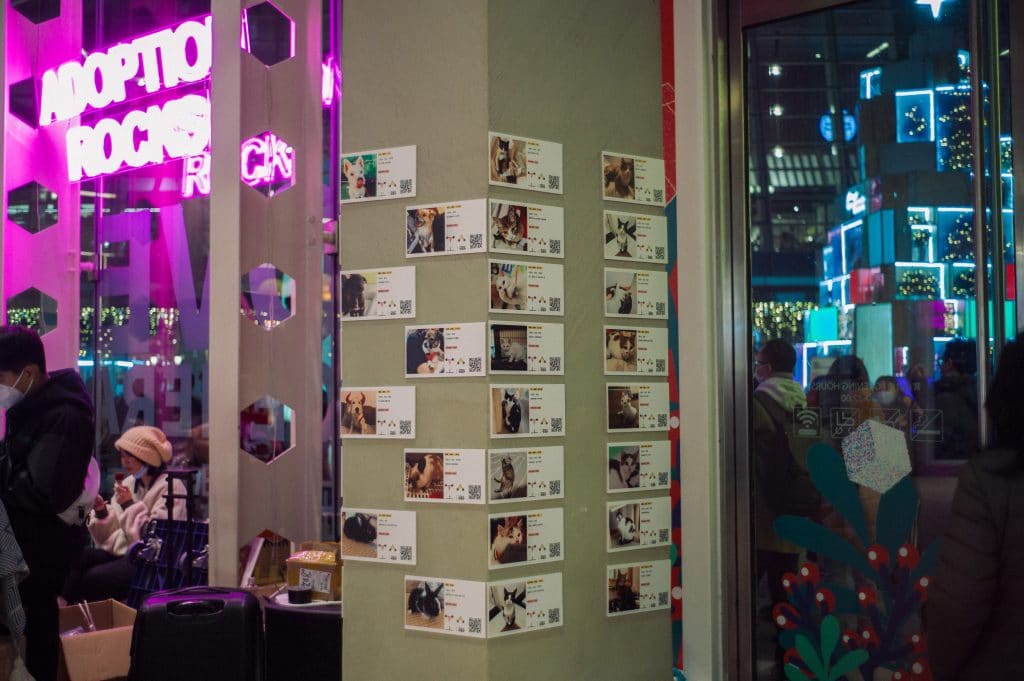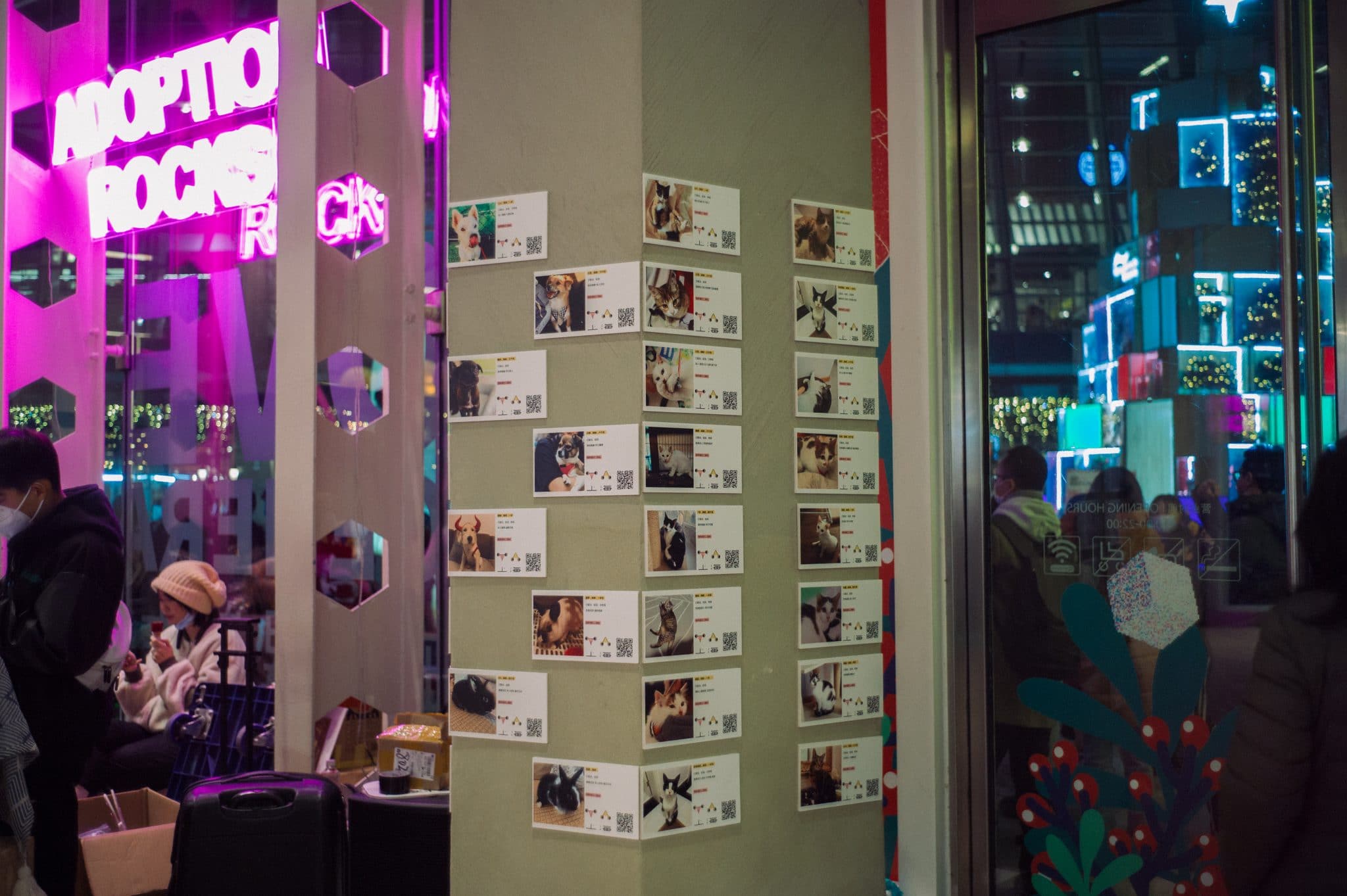 During the pandemic, when in-person adoption became difficult, a virtual event was launched by TA Shanghai in partnership with Starbucks, with people able to find out about animals up for adoption while grabbing a coffee. Celebrities such as Sun Li are regular visitors to the organization's events and use their platform to advocate for adoptions and animal rights.
This year, TA Shanghai staff were invited to an international school in the city to talk to students about adoption.
"We get to promote positive attitudes towards animals and positive concepts such as aid, feeding and adoption by communicating with different groups. It is exciting to see positive changes in people's mindsets and behaviors in this process," Xu said.
Programs to promote animal adoption are essential for TA Shanghai. All offline adoption events take place indoors, with young parents sometimes coming along to allow their children to meet the animals. In addition to observing and playing with the animals, children and parents also get to listen to volunteers from the organization tell their stories, educating attendees in the process. The fact that it enables children to start learning about animal welfare from a young age is particularly important, says Xu.
The concept of adoption has also been promoted by the organization's business partners. A recent collaboration with FarFetch included TA Shanghai's staff shooting a commercial for the fashion brand and sharing the joy they have had with their adopted animals.
"Working with fashion brands is a way to convey the message that animal adoption does not necessarily have to be difficult, it can also be fashionable and full of joy," Xu explained. "Many say that Shanghai is the fashion capital of China, and we hope that what we do with fashion brands here can represent a new type of fashion that will have an influence across the country."
Promoting adoption is only the beginning of the process; once a person has shown interest in adopting an animal, what follows is more practical work assisted by volunteers, or original rescuers if the animals are not from local animal rescue organizations. Before an adoption actually takes place, volunteers will evaluate if the potential adopter is a suitable candidate. Two critical factors need to be considered: whether the adopter genuinely cares for the animal and whether the adopter has a permanent address.
"Considering the second factor does not mean we do not accept people who rent. What we want to make sure is, if people move house, they are still willing to take the animal with them," Xu said. Other factors that volunteers and rescuers also need to consider include whether or not family members support the adoption and if the adopter can afford food, medical bills and has time for the animal.
Sometimes, former strays need some time before they're suitable for adoption. Perhaps they need medical treatment or a slower transition to get used to domestic life. This is where the organization's foster home program comes in.
"Our fosters prepare rescued animals in poor health for adopted life – both physically and mentally. We train animals to become familiar with an indoor family setting and live with people. If any of the animals are still recovering from illness or have not received vaccinations, we will ensure that they are healthy and vaccinated before they go to live with their new families."
But the adoption process does not end when an animal goes to a new home. Regular follow-up visits will be made by volunteers and rescuers to check how things are going. "We all want to see adopted animals settling in to their new homes and getting along with both the adopters and their family members. If there are any problems, we hope to offer our help as soon as possible."
Supported by a foundation promoting animal protection, TA Shanghai's operations do not usually encounter financial problems, but Xu says that the organization is looking to attract fresh blood. "For the past 10 years, we have relied entirely on volunteers. But as volunteers progress in their lives, it's possible that one day they may choose to stop working for us. So in the future, we look forward to seeing more university students and younger children getting involved with our work."
Xu has also been inspired by what she has seen abroad.
"In Turkey, everywhere you go, you will see dogs and cats on the street, and there is an amazing harmony between people and animals. Animals are well looked after – they are fed by the local municipalities and members of the public, there are shelters, and medical necessities including sterilizations and vaccinations are provided. They are relaxed on the street; they are not afraid of people, nor are they aggressive. Even during COVID-19 outbreaks, Turkey has taken measures to tackle the question of feeding and care."
Xu believes there are lessons to be learned from the Turkish approach. "Ultimately, legislation and public education are the key to achieving this desirable result," she said.