Created by JD.com in 2003, the "6.18" Shopping Festival has since become a Chinese national phenomenon. While newer e-commerce platforms such as Kuaishou and Douyin are growing in popularity[1], Alibaba's Tmall and JD.com remain the top two players. The festival is the second-largest online sales event in China after "Double 11" and its total transactions hit 16.91 trillion yuan ($2.38 trillion) in 2020, up 42 percent from 2019[2].
This number is expected to see a significant increase this year, with both Tmall and JD.com starting pre-sale promotions on May 24. Pre-sale orders on the first day alone were up 640 percent, according to the JD Big Data Research Institute. Similarly, for Tmall, Li Jiaqi and Wei Ya — the top two livestreamers in China — had together sold products worth a total of 4.94 billion yuan as of midnight on May 25[3].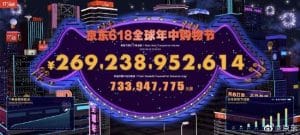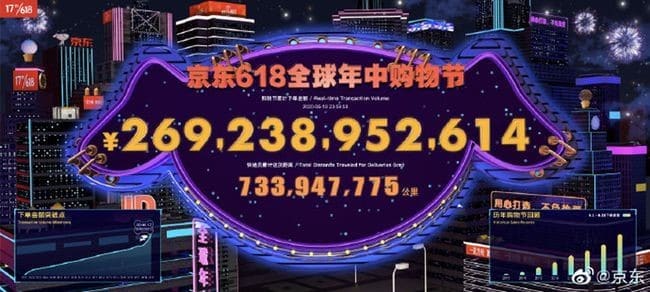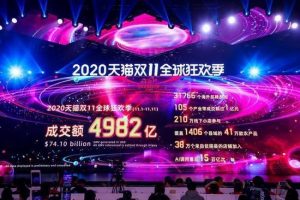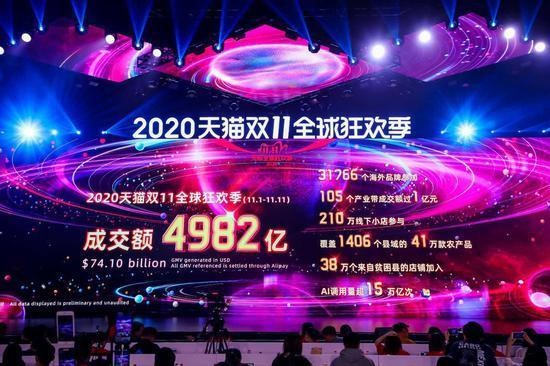 Figure 1, JD.com and Alibaba's Tmall both recorded record online sales during the 2020 "6.18" Shopping Festival. (Photo: Sina Finance)
But this extraordinary amount of economic activity generates a staggering amount of packaging waste. More than 16 million tonnes of waste came from parcels in China in 2020[4], with over 80 percent of that figure generated by e-commerce orders. Waste from express deliveries in 2018 was predominantly made up of cardboard boxes (44.03 percent) and plastic packaging (33.5 percent). The production, use and disposal of this quantity of packaging released 13.03 million tonnes of carbon dioxide, which could only be offset by planting 710 million trees[5].
However, the top source of carbon emissions from Chinese e-commerce is not packaging (18.04 percent), but logistics (29.16 percent), according to a 2021 report by Carbonstop. The study found that Chinese e-commerce firms together produce 53.26 million tonnes of carbon emissions every year, which accounts for 2.5 percent of the tertiary sector's total emissions and would require the planting of 10 billion trees to offset the environmental impact.
Environmental awareness has grown considerably across the industry in recent years and there is now a consensus on the need for greener operations[6]. To encourage the use of more environmentally-friendly packaging, the State Post Bureau promoted its "Green Packaging Standards in the Express Delivery Industry" in June 2020[7]. And the percentage of "slimmed" tape being used in packaging across China is now 83.8 percent; 65 percent of all e-commerce deliveries are no longer double packaged; 80.9 percent of transit bags are now recyclable; and 17,000 new delivery outlets have set up recycling bins for packaging waste. Nevertheless, Plastic Free China and Toxics-Free Corps — two Chinese NGOs committed to reducing pollution and waste — have stressed the need to define and regularly monitor more comprehensive and measurable green packaging outcomes as well as to increase the transparency of green initiatives[8]. For green logistics, the number of express delivery vehicles powered by renewable sources of energy increased steadily to exceed 30,000 in 2020 — a 45 percent increase from 2019[9].
Green transformations have been mostly state-led, but the role of NGOs in promoting green packaging was officially recognised by the State Post Bureau in the latest version of its "Green Packaging Standards in the Express Delivery Industry". Article 27 states that "Express delivery firms should strengthen cooperation with packaging production companies, scientific research institutions, universities and environmental protection organisations…". Article 28 requires postal and delivery enterprises to fully consider suggestions from customers, media and social organisations, in order to enhance the effectiveness of green packaging.
Plastic Free China said that it was delighted to see that this regulation gives environmental protection organizations more room to directly and effectively influence green reforms of packaging in China[10]. Prior to this regulation, the work of Plastic Free China has predominantly involved conducting policy analyses and publishing research reports in collaboration with other NGOs like WWF. Two months after the document on green packaging standards was published, Plastic Free China co-hosted an online forum titled "Post-Pandemic Plastic Pollution Governance", which was attended by more than 200 Chinese and international enterprises and institutions.
Despite the NGO activities, the fact that there has been slow progress in green logistics overall is down to the cost, inconvenience, and level of technological maturity of new energy vehicles. New energy trucks are expensive one-time investments, while the government has continuously cut relevant subsidies for marketisation. Basic facilities such as charging piles and stations are also inadequate. In addition, new energy trucks are still not technically capable of long-distance travel.
Ren Haoxiang, vice-president of the China Federation of Logistics and Purchasing, points to complicated index content, data access, and large differences between logistics companies as obstacles to quantifying the green development of the logistics industry[11]. This has severely hindered the government's policy planning and industry monitoring, resulting in enterprises not taking more rigorous approaches. A number of policies such as the "New Energy Development Plan" emphasise increasing public policy support for the use of new energy vehicles and the overall shift toward green logistics is accelerating[12]. From 2021, at least 80 percent of public transport and logistics vehicles in National Ecological Civilisation Pilot Zones and Air Pollution Prevention and Control Key Regions are required to be new energy vehicles.
China has announced that it will ensure its carbon emissions peak by 2030 and that it will achieve carbon neutrality by 2060. The two goals were proclaimed one of the country's eight major tasks for 2021 by President Xi Jinping in December 2020[13]. As the second-largest online sales event in China, how might this year's "6.18" Shopping Festival be different?
On May 20, JD.com declared "sustainable development" as one of the seven major trends of the annual "6.18" Shopping Festival. Not only has the company set its "6.18" carbon emissions target at 5 percent lower than that of 2020, but it has also made it clear that it will further increase the deployment of new energy vehicles in several cities across the country. It will also leverage its technological capabilities to enhance real-time optimal route planning and storage network planning so as to reduce the number of in-transit vehicles. In addition, JD.com has promised to increase the number of recycling bins and reusable transit bags, and it will reduce the use of tape in the meantime. The internet retailer operates systematically with its subsidiary JD Logistics, which was named the second-greenest logistics enterprise by Plastic Free China in 2020[14].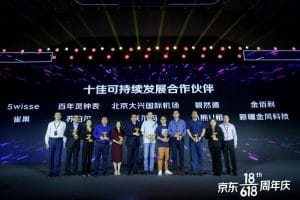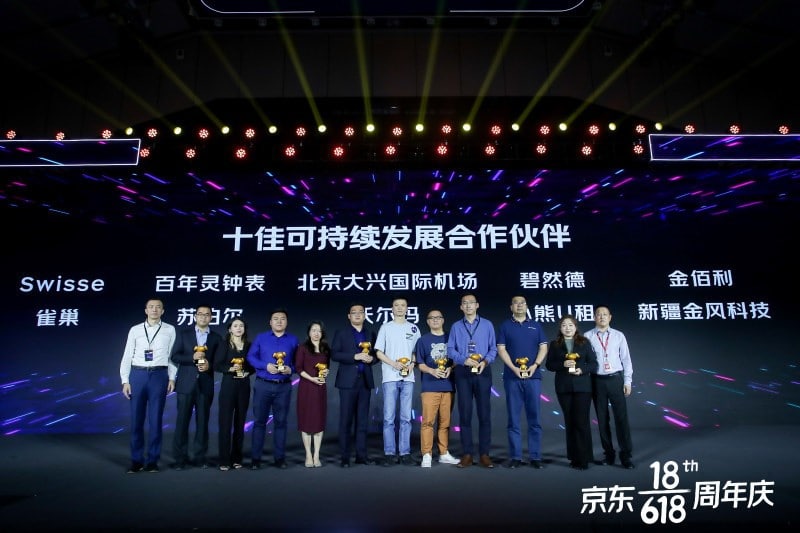 Figure 2, JD.com announces its top 10 sustainable development partners on May 20. (Photo: IFeng Finance)
On the other hand, Alibaba has not announced any "6.18"-specific commitments aside from its carbon bill report, "Towards A Zero-Carbon Age", in April 2021[15]. A possible explanation is that Alibaba and JD.com both tend to make major announcements during the shopping festivals they have each established — "Double 11" in Alibaba's case. Cainiao, Alibaba's official delivery platform is believed to be lagging behind on making its business more sustainable[16]. This could hinder industry-wide green transformation efforts due to the firm's close collaboration with major courier businesses (STO Express, ZTO, YTO Express, BEST, Yunda Express and Deppon) and because of Alibaba's dominance of the e-commerce market. On a more positive note, Alibaba's other subsidiary Xianyu is where more than 1 billion items have been put up for resale every year since 2017. Alibaba's integration of Taobao and Xianyu attempts to encourage the reuse of items and to alter consumer behaviour — rather than the typical supplier-side approach, which echoes the concept of a circular economy.
Talk of a "circular economy" has become fashionable in recent years, and is celebrated as a comprehensive solution for solving the conflict between economic growth and the need to protect the environment. Based on ridding economic systems of waste and pollution, a circular economy maintains existing, rather than new, resource investments by extending the service life of goods. Moving toward a circular economy requires shifts in both the responsibilities of producers and the behaviour of consumers in order to change economic systems where most products eventually become waste.
Whether a circular economy is the way forward is debatable, but so far this year's "6.18" Shopping Festival has not appeared to differ greatly from previous years. E-commerce platforms' current green initiatives are unlikely to sufficiently counterbalance the rise in carbon emissions from the huge projected increase in sales. That is not to say that the efforts made so far have been in vain, but it is perhaps the very nature of shopping festivals themselves that are the problem.
About the author:
Nicole Jin is a Journalist in SRP's Writing and Interviewing Program. She is a first-year BSc Geography with Economics student at the London School of Economics and Political Science. Her areas of interest center around sustainable cities, inequalities and international development.
[1] CNBC, 2021
[2] Statista, 2020
[3] www.100EC.cn, 2021
[4] Plastic Free China, 2021
[5] Greenpeace, 2019
[6] Radio Free Asia, 2020
[7] Sina Finance, 2020
[8] Plastic Free China and Toxics-Free Corps, 2020
[9] Sina Finance, 2020
[10] Plastic Free China, 2020
[11] Yunshurun.com, 2021
[12] tucmedia, 2021
[13] chinadevelopment.com.cn, 2020
[14] Plastic Free China, 2020
[15] Sina Finance, 2021
[16] Plastic Free China, 2020