A clean, healthy and sustainable environment is a basic and essential citizen's right. This is one core value of the head of Friends of Nature's law and policy project, Liu Jinmei. "Since it is a right, using law to defend it is a logical choice," she explained.
It's a tale as old as modernity that economic growth comes at the expense of the environment. When the industrialised countries developed with this logic, less industralised countries followed suit. China was no exception. But environmental protection awareness has grown leaps and bounds in recent years. As the government has begun ambitious initiatives to address pollution and environmental depredation, environmental NGOs in China are taking initiative too.
Friends of Nature, one of China's most well-known environmental NGOs, is leading in the realm of advocacy, research, and more recently with public interest litigations (PILs) – one of Liu's focus areas.
China Development Brief spoke with Ms Liu Jinmei in December 2020 to learn about her extensive work with NGOs worldwide tackling environmental issues. She shared her legal journey in environmental law and illuminated pathways for aspiring legal professionals driven to apply their knowledge and skills in making a difference.
Starting from service
Many ask Liu what led her to become an environmental lawyer working for charitable organisations. Liu said the decision was both a personal choice and because of an opportunity. Soon after graduating from the law school of China University of Political Science and Law (CUPL) in 2009, Liu found a public interest legal programme organised by the university that supported recent law graduates working on public interest-related lawsuits to seek systemic change in Chinese public interest law.
"In the past, what we talked about was only the general law. But the concept of 'public interest law' was rarely discussed and not well-known. In this programme, we were given a couple of options to focus on. Environmental protection was one of the them. In fact, my understanding of public interest law was little prior to that programme, and my career in defending public interest in fact started from the moment." During the programme, Liu met China's first generation of public interest lawyers and embraced "a totally new world of law."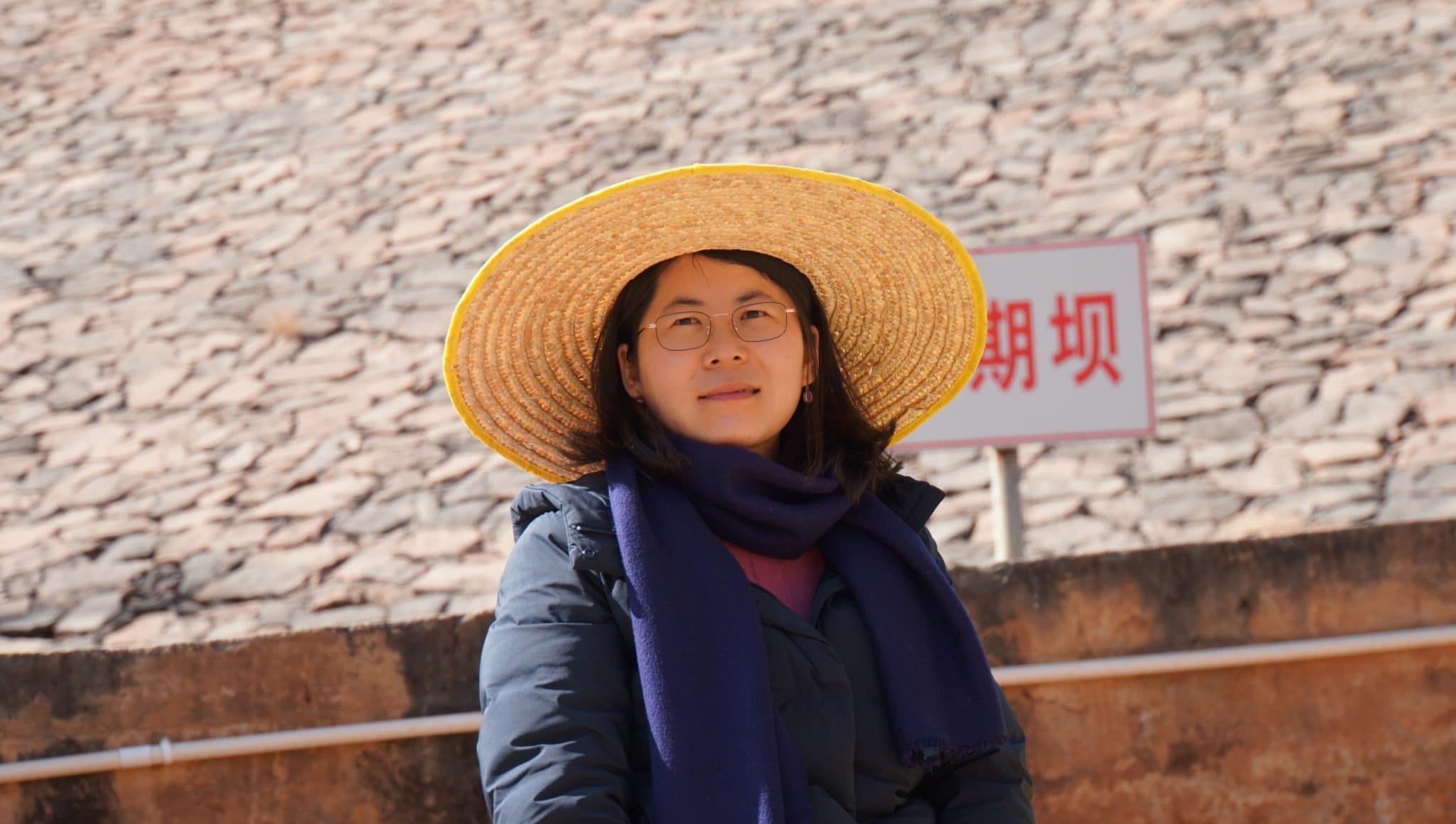 "I was very much touched and inspired by what these lawyers did to make our society a better place and what they pursued as 'social justice.' They all represented my understanding and expectations of law and justice." In addition, Liu was involved in student societies promoting environmental protection in university.
Liu's first job as an environmental lawyer was at the Center for Legal Assistance to Pollution Victims, a charitable organisation affiliated with CUPL. From 2009 to 2015, Liu and her colleagues worked pro bono to represent city and village residents who suffered from pollution caused by local factories. Six years of experience litigating for pollution victims gave her much exposure to domestic environmental cases, and when Liu felt it was time for a change, a fairly new aspect of environmental law seized her attention.
"As I was exploring the next path on my legal journey, I realised environmental issues were in fact issues of global concern. Gradually, I began learning about Chinese companies investing overseas and their impacts on local environments and communities. At that time, the Belt and Road Initiative was just getting underway, and attention on Chinese companies overseas was on the rise. My instinct told me that although this was a brand-new topic in environmental law, it would attract more attention as time passed by and certainly, Chinese environmental organisations and lawyers would be helpful in solving these issues." A senior lawyer encouraged Liu to join EarthRights International's Mekong Legal programme in Thailand, focusing on Chinese companies in Southeast Asia. In a jurisdiction where the litigation process is different from China, Liu gained new experience with and insight into international environmental law.
In 2018, Liu joined Friends of Nature to head the law and policy project. Apart from her responsibilities in environmental litigation, Liu has dedicated much of her time to environmental policy advocacy, an area where she said Friends of Nature has much room to improve.
Litigating the way
"We have to understand the reason why environmental law exists is not only because we want to protect the environment, but also there will be cases in which people harm nature with the aim of benefitting themselves or a small group of people, and this misconduct is what legislation is used to fight against. Natural resources and the environment are common goods for which the natural law does not set out rules to regulate and protect them. However, once human activities have damaged the environment, they will affect perpetrators as well as other innocent citizens who are not involved in these activities and don't benefit from them. Here, law has to act to protect people who become environmental victims and ensure perpetrators bear civil or criminal responsibilities."
Law lays down fundamental obligations for every person in society but law enforcement has to be achieved through common effort involving civil society. For Friends of Nature, one significant part of its work is to file PILs. Over the years, Friends of Nature has filed 49 environmental PILs and among them, 42 were accepted by the court, 21 were closed and 21 is currently under review. However, it cannot be denied that for NGOs, filing a PIL is an expensive process to go through and not all NGOs have the resources and expertise to enable it to happen. Liu admitted this is a reality that many environmental NGOs face, yet she made it clear that other efforts of NGOs should not be overlooked. "Many environmental NGOs are focusing on non-litigation work, such as information sharing, data collection and analysis, environmental supervision and misconduct reporting. These tasks may seem irrelevant to PILs, but I believe PILs can never be brought to court without people's persistent efforts in collecting data, promoting and analysing information and holding relevant organisations and personnel accountable. They have built the foundation and channels which enabled PILs to attract wilder attention and achieve their legal and political significance. There certainly will be organisations whose staff are professional environmental lawyers and whose missions are to tackle very difficult legal environmental issues, but the division of labour within the nonprofit sector requires people and organisations to pay attention to other tasks, too. Each part is indispensable for any environmental change to take place."
"Young lawyers need to be mentored so they can acquire good experience and practical skills," said Liu, who has particularly prioritised team management. She highlighted the importance of junior lawyers finding spaces and opportunities for vocational development and personal growth.
Liu said Friends of Nature's work ethic has given her confidence in her team's professionalism, a quality she mentioned was the first advantage Friends of Nature has in filing environmental PILs and representing their clients who bear painful consequences of environmental damages. "Compared to many other Chinese environmental organisations, both focus on and do not focus on PILs, Friends of Nature has a relatively stable team whose members are legal professionals with a good knowledge of law. Having a professional legal team is critical for an organisation who employs law as a vital tool in their daily work," Liu pointed out.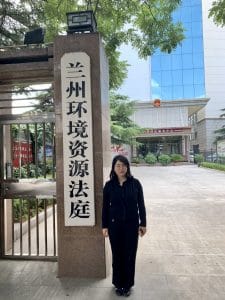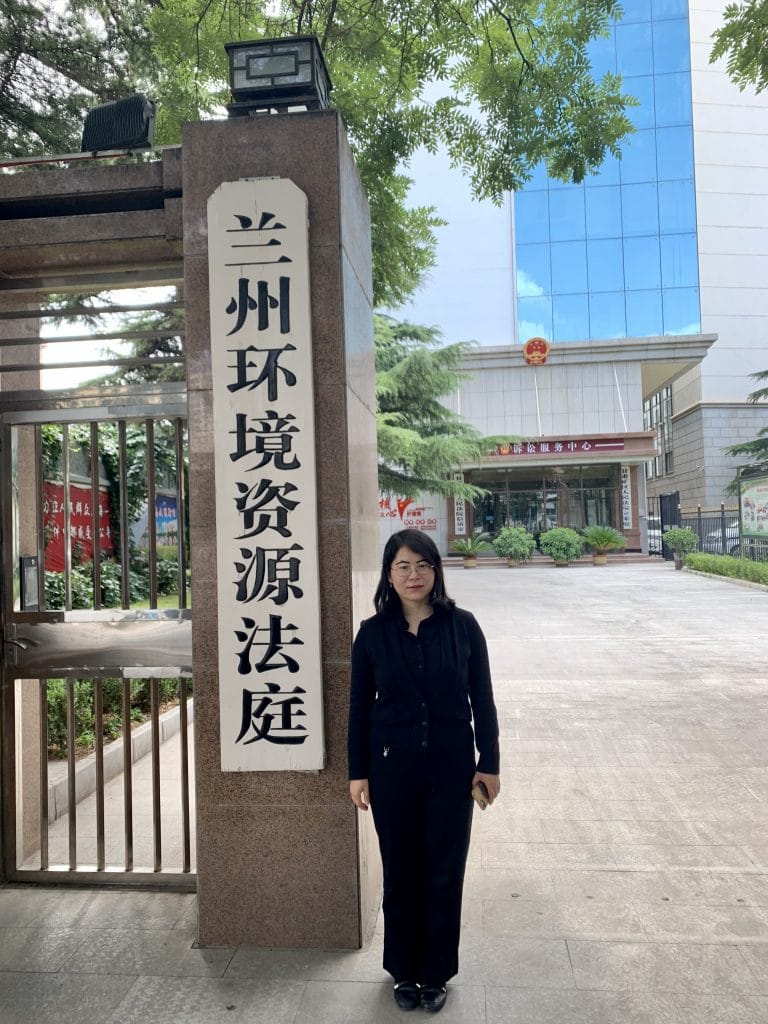 "The second advantage of Friends of Nature as an environmental organisation in China, is our work of PILs is closely linked to policy advocacy," said Liu. "When we select cases to file as PILs, we have already considered our cases are potentially helpful to bring changes to existing laws and policies. When we make policy proposals, details from PILs we worked on can become evidence to support our stance. So the litigations we filed will be able to maximise their impact social impact."
The third advantage of Friends of Nature, according to Liu, is its reputation in the Chinese nonprofit sector. Founded by Liang Congjie, a historian, environmentalist, and the son of famous architects Liang Sicheng and Lin Huiyin, Friends of Nature is one of China's oldest Chinese environmental organisations. This has attracted many environmental professionals to join its ranks. "The complicated nature of environmental lawsuits means having legal professionals alone are not sufficient to lead to effective solutions. Environmental lawyers often need to consult environmental scientists because expert opinions will help lawyers go beyond the legal profession and obtain environmental knowledge relevant and necessary to their cases, which strengthens the validity of their arguments," Liu explained.
A chance for change
Liu stressed that organisations working on environmental issues have to realise the close relationship between law and their mission. They need to learn about relevant laws and regulations relevant, and understand that law is a tool of empowerment. That is the goal of Friends of Nature's annual Policy Advocacy & Research (PAR) Workshop. "Each year, we focus on a different topic or environmental field. Workshops like this is costly, but we believe in its far-reaching effects on the wider society. The PAR workshop concentrates on organisations' capacity building. To be more specific, it trains organisation leaders and management teams to get informed and familiar with existing methods and tools for policy advocacy, the importance of policy advocacy, building connections with local National People's Congress (NPC) deputies and collaborating with other environmental organisations," said Liu. Since the workshop started, Liu had witnessed positive changes, but she pointed out that capacity building and raising awareness in Chinese environmental NGOs still have a long way to go like the linear stages of economic growth, organisations will go through different stages of development and at each stage, they will have their unique focuses.
One phenomenon Liu noticed is more environmental NGOs starting to hire employees with legal backgrounds. But one has to admit attracting lawyers and law graduates to the NGO sector is not an easy job. How can environmental NGOs compete with law firms or consulting firms which hire hundreds of law graduates each year with very good pay? Liu used her own story to provide some perspective. "Environmental law is a very specific, sophisticated area of law. The reason environmental law always attracts me is the challenges it sets ahead: 50% of the content in environmental law is non-legal knowledge. Rather, it is more related to environmental science and technology. Dealing with environmental cases is no repetitive work; each case can be very distinctive. This means I have to constantly learn and inform myself with legal and environmental science knowledge." Liu also reflected that an increasing number of commercial law firms have also begun to have their own departments of environmental law, some of which promote themselves as specialising in environmental law.
"Relatively speaking, environmental NGOs in China who focus on PILs are not in a huge number; but their contribution can by no means be ignored. In fact, much more PILs are filed by prosecution agencies than NGOs. When these agencies become plaintiffs in the court, those whom they are filing against become defendants and both sides will need lawyers. That is also where environmental lawyers can step in and offer their help."
Liu added a major component of the NGO approach is environmental compliance. "Legal professionals can work with Environmental Protection Bureaus, to check the validity of environmental policies, and companies, to ensure their operations do not violate national and international environmental law. Compared to a decade ago, environmental lawyers surely have a wider career path."
Liu encouraged graduates in China from all backgrounds to consider working for the third sector because "it will open people's eyes to see the world and have many realise work opportunities in NGOs are more than what people thought."
"Many of my foreign colleagues come from a privileged background and graduated from prestigious law schools. They joined NGOs wishing to use their expertise and resources to push for good changes in the first and second sectors. What I want to convey through my colleagues' story is, firstly, the NGO sector needs to create more platforms, space and opportunities for young talents to envision their own development in this sector and what they can benefit from working with NGOs. Secondly, young people nowadays should be more open-minded with their career choices and dare to try things following their passion and different from the alleged 'mainstream.'"
"Before it's too late"
Liu said there was one particular case that from the first glimpse was rather simple but ended leaving a profound impact on her vocational growth.
"A couple of years ago, I led a team of the Friends of Nature to file a PIL against a wind power programme operated by a large state-owned enterprise. The problem of this programme was the location was in a national park. Setting up wind turbines there means plenty of trees on the mountains had to be cut down; meanwhile, setting wind turbines on a high place was also in the risk of causing functional habitat loss for migratory birds. So, the turbines which meant to bring beneficial results to the environment actually contributed to environmental damages. By the time we started filing the lawsuit, the company had already begun to remove their turbines. Yet what they did was only to remove the top parts that can be recycled for later use, and left the foundations as where they were. The Friends of Nature team filed the lawsuit to demand the company to remove the whole turbines from the national park.
The case went rather smoothly; there was almost no confrontation. The company soon devoted itself to removing the foundations and began the process of restoration. In less than a year, we already saw improvements. The programme manager, in particular, was very committed. In the end, he was familiar with every species of tree they planted on the hills. He said he was moved by the power of nature and acknowledged human activities should not be conducted at the price of the environment."
Liu shared three lessons she took away from this process. "Firstly, popular programmes with good environmental intention can produce harmful impacts on the environment, and their impacts should be more comprehensively examined. Wind turbines nowadays are on the rise; comments on them are mostly positive and preferential policies on wind turbine programmes are generally provided. In this case, they were set up in the purpose of decreasing the use of fossil fuels to produce electricity. However, due to mistakes in the choice of the location, their environmental damages outweighed their environmental contribution. Secondly, PILs does not necessarily need to be always confrontational. Essentially, a litigation is a conversation. If both sides hold cooperative attitudes to work out solutions, litigations can proceed peacefully. Thirdly, companies have great power to influence the whole industry through eco-friendly and responsible conduct, and they should be encouraged to do so. In this case, once the defendant recognised damages that wind turbines brought to the local environment, they were actively involved in ecological restoration and ultimately, the work was finished impressively well."
But Liu said it cannot be denied that state-owned companies generally have more sufficient resources than private companies so they could afford to conduct the restoration. "I think private companies' resources are less compared with state-owned companies, hence eco-friendly and sustainable business behaviours are more important for them. Because once they violate laws and regulations, the huge cost of environmental restoration may lead to great loss for the companies, if not bankruptcy. Investing in eco-friendly behaviour may demand more money in the beginning but in the long term, it will help companies save money and gain credits." But what if private companies' conduct violates environmental law?
"Be it state-owned or private companies, once they violate the law, they must receive punishment. But the state has responsibilities to help private companies if they cannot afford to restore the damaged environment or purchase pollution control devices for the time being. In this situation, environmental law requires the state and legal professionals to be 'creative' with punitive damages. The aim of the law is not to put all perpetrators to bankruptcy, permanent imprisonment or death sentences, because they will not help solve problems. The law needs to uphold justice and solve legal disputes, but it also needs to consider its long-term impact on future behaviours and decision-making. For example, if a company needs to do environmental restoration but cannot afford it, it should be given options such as paying for all the cost in three or five years, or to compensate for its misconduct in other ways. The state might have to use taxpayers' money to begin the restoration first, and the company will make the full payment at a later stage. This way, environmental restoration and justice will both be achieved in a relatively low cost."
"One of the great values of environmental PILs related to mostly business programmes is during the trial detailed evidence from both sides will be presented to the judge. What environmental lawyers, experts and organisations can do is to carefully and critically reveal all the conflicting interests between the public, the business and the environment, and therefore help industries, sectors and legislative bodies understand deeper structural or social issues. Then afterwards, there might be a chance for the law to be improved," she said. "PILs bear the burden to draw attention from the judicial bodies and the public to see the necessity of amending existing laws or passing new laws, before it is too late."