The China NGO Network for International Exchanges and the American NGO Mercy Corps jointly hosted a ten day forum on "China's role in global partnerships in achieving the UN sustainable development goals", held in the United Nations Millennium hotel. China's permanent representative to the UN, Ma Zhaoxu, delivered the keynote address.
Speakers included the China NGO Network for International Exchanges secretary general Zhu Rui, representative of the United Nations Department of Economic and Social Affairs' Office for Intergovernmental Support and Coordination for Sustainable Development Marc-Andre Dorel, the executive vice-president of the China Foundation for Poverty Alleviation Wang Hangzui, and Mercy Corps' Ann Vaughan.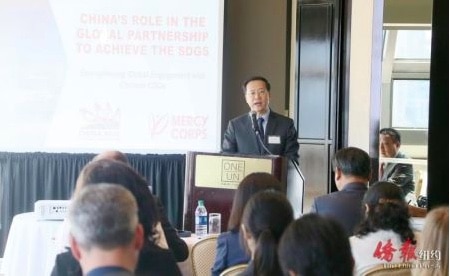 Ma Zhaoxu claimed that presently the recovery of the world economy is fragile, there is low growth in trade and investment, and the rise in anti-globalisation and protectionist thought is impacting trade, creating challenges for the revitalisation of global partnerships for sustainable development. International society should put its energies into creating a "community of common destiny", aiming to reduce poverty, optimising development partnerships, improving the global development environment, and enabling people of all countries to enjoy the benefits brought by the growth of the global economy. Ma Zhaoxu further noted that at this time the friction within the world economy is intensifying, aggravating its instability and insecurity. The United States has declared the biggest trade war in economic history, creating unrest in the global market; all countries should support multilateralism to safeguard the multilateral trading system and policies, opposing different types of unilateralism and protectionism in trade and investment and defending free trade and the multilateral system.
Marc-Andre Dorel also emphasised that in order to realise the UN sustainability goals, there needs to be cooperation between national governments, and at the same time civil society organisations and governments need to work hand in hand, and during this process guarantee basic human rights and social inclusion.
The All-China Environment Federation, the China Foundation for Poverty Alleviation, the Environmental Defense Fund, the China Ecological Civilization Research and Promotion Association, the Global Energy Interconnection Development and Cooperation Organization and other such organisations also took part in organizing the forum.