This article reports on the new trend of Chinese NGOs following companies overseas to monitor and work with them and other stakeholders to mitigate the social and environmental impact of Chinese investment on local communities abroad.
Breaking the Ice on Joint Cooperation Between GEI and Chinese Companies Overseas
Since 2007, the Chinese NGO, Global Environmental Institute (GEI), has focused its efforts on the environmental and social responsibility of Chinese enterprises with overseas investments. Not only does it hope to encourage the Chinese government to formulate relevant policies (such as a behavioral guidebook for overseas Chinese companies), it also intends to encourage and guide these companies to engage in socially and environmentally responsible behavior. They hope to cooperate with overseas enterprises on environmental protection and community development initiatives, with the aim of protecting the local environment and promoting the economic development of local communities.
The challenge of Chinese NGOs working with Chinese enterprises overseas to develop environmental protection and community development measures has always been a difficult one. Three factors — the weakness of Chinese NGOs, the inveterate dependence of industry on the government, and their limited awareness of environmental and social responsibility — make cooperation extremely difficult. After three years of effort, GEI and the Nam Ngum 5 Power Company Limited,  (hereafter referred to as "the NN5 Power Generation Company") , Laos branch of China Water Resources and Hydropower Construction Group (hereafter referred to as "Sinohydro"), signed a memorandum of cooperation in December of 2010.  Their plan was to develop programs promoting biogas technology in Ban Chim Village of Phounkhon County in Luang Prabang Province, which was affected by the construction of the NN5 Hydropower Station. By bringing expert Chinese biogas technology into Laos and making full use of livestock manure, they hoped to use this new and renewable clean energy technology for local farming, agriculture, and everyday use. Their aim was to meet Ban Chim Village's everyday energy demands, improve local villagers' standard of living, and, at the same time, significantly reduce the rate of deforestation to protect forest ecosystems. This action has created a precedent for cooperation between an NGO and an overseas Chinese enterprise.
Concerning Nam Ngum 5's Hydropower Station
The NN5 Power Generation Company is the Laos branch of the Sinohydro Company. It is primarily responsible for the construction, operation and management of Sinohydro's investment in the construction of the Nam Ngum 5 Hydropower Station in Laos. It is also responsible for the construction of Nam Ou River's cascade hydropower station and the operation and management of Paklay Hydropower station. The Nam Ngum 5 Hydropower Station project is the first hydropower station developed using the BOT (build – operate – transfer) method to appear on the Laotian market. The project is located in Nan Ting River, 300 kilometers north of Vientiane, the capital of Laos, The power station has an installed capacity of 2 x 60MW, an annual generation capacity of 5.07 million kwh, and adjusting for the performance of the plant, a total investment of nearly $200 million. The plan is to close the lock for water storage in March of 2012, and complete the project by the end of 2012.
Method of Cooperation
One could say that the cooperation between GEI and Sinohydro is full of twists and turns. Their best opportunity to work together was in 2008, when domestic and international NGOs began to focus their concerns on the environmental and social problems of companies investing overseas, and domestic and foreign media began reporting on the environmental problems arising from such investment. Hydroelectric dams are one of the areas that received close attention. By invitation, GEI joined International Rivers to visit Sinohydro's Manager for Public Relations and initiate first contact. In the following year, GEI communicated regularly with Sinohydro. During the same period, GEI did some initial research on overseas corporate environmental policy, and carried out some preliminary advocacy and research on environmental policy directed toward the Laotian government.
GEI submitted a letter of intent to the Laotian government to cooperate on a program to promote community development for those living by the NN 5 Hydropower Station. It was an example of a good opportunity, a good issue, and good preparation that ultimately led to the first cooperation between GEI and Sinohydro's Laos branch.
The Laos Ban Chim Village project to promote biogas technology is the first instance in which GEI and a Chinese overseas enterprise have cooperated to carry out projects in environmental and community development overseas. GEI and the NN5 Power Generation Company shared project operating costs. The project's budget is expected to reach $72,100. GEI is responsible for hiring and paying the biogas experts, and supervising the construction progress, accounting for about 30% of the total project cost. The NN5 Power Generation Company will pay the costs of building materials and equipment fees for the construction of the biogas pond, and the local transportation and accommodation costs for the experts and other staff, accounting for about 70% of the total project costs. GEI and NN5 Power Generation Company have conducted several rounds of surveys and studies in the design of the biogas project, have sought the views of the local communities and gained strong support from community residents. This project could not only protect forest ecosystems, but also could increase the quality of life for local residents.
The way in which cooperation came about in this project has become an initial model for cooperation between GEI and other overseas enterprises, for instance in regards to how companies and NGOs can share financing and carrying out environmental protection and community development projects. With the further development of Chinese NGOs and Chinese companies' growing environmental and community awareness, GEI hopes that in the process of future overseas investment, Chinese companies will actively initiate cooperation with NGOs (with the company bearing the entire project costs). They also hope that companies will not just depend on local government departments, but will submit their community economic recovery and environmental management plans to experienced NGOs to design and implement.  GEI hopes to explore and develop further models of cooperation for Chinese enterprises and NGOs. With their special technical expertise and extensive experience in implementing community and environmental management projects, NGOs could guide and assist companies in fulfilling their environmental and social responsibilities.
Biogas Technology Promotion Projects
NN5 Hydropower Station reservoir is located near Ban Chim Village. It inundated the arable land of 35 households and a large area of lowland grazing land. Each family has been compensated for their loss of land with cash payment, food, and other materials, and villagers have been provided with training in cattle raising and planting technologies. In order to protect the forest surrounding the reservoir, reduce the villagers' chances to cut down trees on the mountain side, and improve the villagers' standard of living, GEI and NN5 Power Generation Company have coordinated to develop the biogas technology promotion project.
Ban Chim Village is located in Laos' mountainous northern territory, and primarily inhabited by ethnic minorities, the majority of whom are Hmong. A Laotian translator once told me that Hmong people are united, are slow to accept new things, have a much slower lifestyle due to generational customs , and are easily satisfied. The biogas promotion and use project has encountered several difficulties.  First, it was difficult to get Laotians to accept and use biogas. Second, the collection of livestock manure has not been easy. Third, there was a lack of technical staff to maintain and manage the project. GEI and NN5 Power Generation Company took one year to ensure the villagers understood biogas and mobilized the enthusiasm of the villagers to use biogas through demonstrations. Due to the behavior of free-range cattle, collection of manure was relatively easy. With enthusiasm high, there was no problem with manure collection. There were many scenes of adults and children all collecting manure on the mountainside. It was reassuring to see indications that they were gradually accepting the biogas project.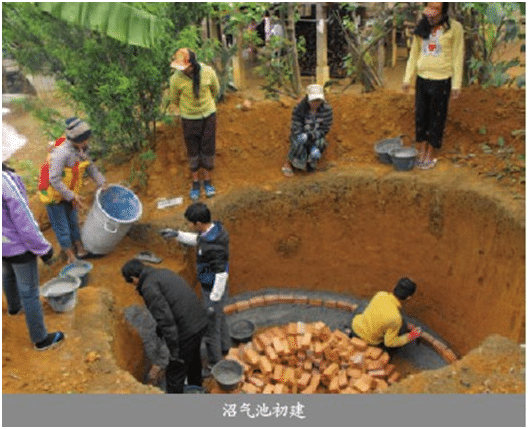 The training of technically skilled staff is also very important. GEI and experts selected two people who had expressed interest in biogas and who were acknowledged to have strong skills for three months of training in Laos. GEI composed a manual on biogas construction and use in Laos (in both Chinese and Laotian) as reference for the Laotian construction and technical staff.
Communication is a major obstacle during the construction process. Even though experts and farmers are able to speak directly and in person, they can only hire translators as a bridge to facilitate communication and understanding due to the language barrier. Sometimes this leads to misunderstandings, making it very time consuming for the technical staff. But with the help of translation, everyone can eventually communicate smoothly and learn from each other.
Changes in the Laotian Countryside
A 2008 survey showed that, besides the use of a small amount of wood coal, more than 90% of Ban Chim's basic energy use is derived from firewood. Every household will, from time to time, go onto the mountain to cut firewood which is used mostly to boil water for cooking, with a smaller amount used for heating.
After the construction of the biogas project, the villagers will no longer have to climb the mountain for firewood, saving them much effort.  A 32 cubic meter biogas pond can save a yearly average of 48 tons of firewood, equivalent to conserving 112 mu (roughly 18.5 acres) of forest. What were once bare and crooked saplings on the mountains surrounding Ban Chim, can now be seen to have recovered their lushness and vigor.
One woman who participated in the construction of the biogas pool said: "Having biogas is very convenient. I use it every day to boil water and make food. I have to go to the mountain for firewood much less often, and there's less smoke in the house." This reporter visited a few households that use biogas. It was no longer like it was before when tears rolled down the people's faces and they could only stay in the room a few minutes. Now the room's air is fresh, the light is bright, and people no longer have to chat and sleep amidst the smoke.
Biogas has also brought great change to the livelihood of the villagers of Ban Chim. After the biogas project began, the residue was applied to soil as a fertilizer. With the exception of using a herbicide to kill weeds, other kinds of chemical pesticides and fertilizer are no longer used. Villagers also use the biogas residue to spray vegetables, eliminate aphids, and increase vegetable production. In order to increase the rate of seedling germination, biogas residue is also used to soak the seeds.
In addition, by connecting the biogas and the toilets, the water used to flush the toilets can flow directly into the biogas pool, both increasing the raw material in the pool, as well as preventing toilet odor, leading to purer and cleaner air.
Another change within the village is that children can study with the lights on. Before, only 13.3 percent of households in Ban Chim used small hydro or diesel engines. The rest of the households had no power. After the construction of the biogas pool, and the installation of biogas lamps, children can continue to study under their light. When the curtain of night falls, the biogas lamps light up Ban Chim, as well as the hopes of the village.