The graduation ceremony of the third Independent Life project was held by the China-dolls Centre for Rare Disorders in the Tiantan Youth Activity Centre in Beijing on November 7th.
The project is committed to cultivating disabled people's ability to live independently and autonomously. It included four courses on the topics of "self-acceptance", "family growth", "social interaction" and "independent behavior". The project lasted for half a year, with the aim of helping disabled people become more independent and gradually integrate into society.
The performance at the graduation ceremony focused on living an independent life. Students were fully responsible for every stage of their performance, from the planning, design and layout to the final presentation. Everyone's potential was brought into play, without any rules or constraints.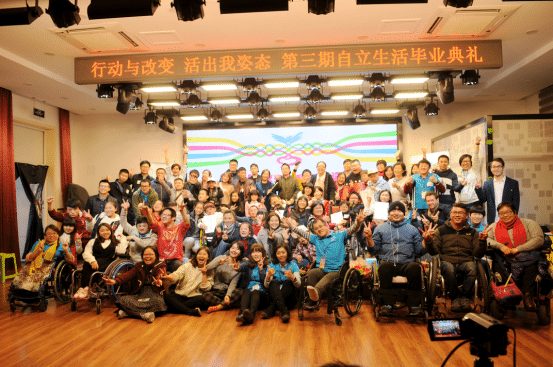 Disabled students had the chance to showcase their progress in the form of stage shows, sketches, music and poetry reading. Hundreds of members of the audience witnessed the students' achievement and their increasing self-awareness and self-confidence. There was also a mini-market which showcased some handicrafts made by the students, and allowed them to interact with the participants and let the public know more about rare diseases.
At the end of the ceremony, the project's leader said "I'd like to thank all those who have gone through this whole project with us. I hope that everyone can raise their awareness regarding rare diseases. What affects this group the most is not necessarily their diseases and disabilities, but the lack of security and the obstacles they face. Therefore we want to make our voices heard and make real changes."