The Public Security Department's Overseas NGO Management Office in Zhejiang Province and the Zhejiang Provincial Department of Education recently issued a registration certificate for the local representative office of Germany's Hanns Seidel Foundation.
Founded in November 1966 in Germany, Hanns Seidel Stifftung runs around 100 projects in 65 countries worldwide. The focus of these projects is on strengthening civil society, civic involvement and promoting the rule of law, education and management training, raising environmental awareness and advising decision-makers in politics, business and administration.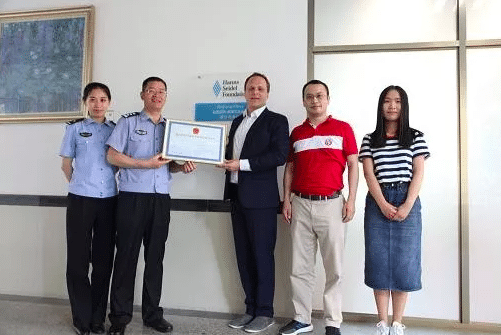 (Source: AONGOMPS)
The registration ceremony was attended by Janne Leino, the chief representative of Hanns Seidel Stifftung and a representative of the Communication University of Zhejiang. The Management Office congratulated the German organization and expressed its hope that the Zhejiang Representative Office of Hanns Seidel Stifftung will strictly abide by the laws and regulations.
The Zhejiang Provincial Department of Education expressed the hope that the German foundation will promote the educational system in Zhejiang through the implementation of various projects. Janne Leino stated that the representative office will carry out their projects in accordance with the law, and enhance educational and cultural exchanges between China and Germany.