College students could be the group most enthusiastic about being part of non-profit undertakings.
The China Foundation for Rural Development (CFRD) recently released a survey report on the Current Situation of College Students' Charity Participation, confirming the high recognition of this social group in non-profit activities.
According to the CFRD survey report:
4 percent of the students participated in at least one to two volunteering activities per semester, and 98 percent of them recognized the benefits of such activities;
Over four-fifths of the interviewed students believed that college students have the responsibility to pay attention to and participate in charity work;
More than one-third of the students expressed their intention to work in non-profit organizations after graduation;
CDB recently interviewed Guo Song, who spent more than 3,500 hours volunteering at university and is now the senior manager for major grantmakers at the SEE Foundation.
Volunteering in college
Guo Song's college life began in 2011, when she was admitted to the College of Foreign Languages at Qingdao Agricultural University, majoring in English.
She joined the university's Aid Education Team when she was a freshman, organizing and participating in more than 10 short-term teaching support activities during winter and summer vacations over the following four years.
Her volunteer teaching footprints are all over the mountain primary schools in Jinan, Weifang, Zaozhuang, Linyi and other prefecture-level cities in Shandong Province, as well as orphanage schools in Gannan Tibetan Autonomous Prefecture in Gansu Province.
These experiences had a profound impact on her: "I can never forget the smiles of the children, which is why I decided to join the non-profit sector after graduation."
Guo Song was also awarded an astonishing number of honorary certificates and titles for her work.
Despite the fact that nearly half of the college students do not regard obtaining honorary certificates as the main reason for participating in charitable activities (data quoted from the CFRD survey report), awarding such honors is still one of the few ways that beneficiaries can give back to the volunteers.
These certificates carried Guo's memory of participating in volunteer activities, ensuring she remembered the experiences and remained enthusiastic about contributing to the nonprofit sector.
Volunteering after graduation
Guo's first non-profit attempt after graduation was to initiate a community youth reading promotion project in her home city of Qingdao.
She later decided to leave Qingdao after getting the opportunity to join a long-term volunteer teaching project in the Tibetan area of Qinghai Province, thousands of kilometers away from home.
It was the first time Guo had come to work and live in an extremely poor area, and the local conditions were harsh.
The local per capita annual income was 1,499 yuan ($230), according to local data — far below the UNDP poverty standard of $1.9 per capita per day. Behind this figure, there were a series of related problems, including hunger and malnutrition, poor hygiene, a lack of potable water, high education dropout rates (especially among girls), high unemployment, and spoiled agricultural products.
In the primary school where Guo taught, the case of a 16-year-old girl named Yingcuo was very typical.
Yingcuo spent all of her childhood and adolescence weighed down by domestic duties and farm work.
It wasn't until her younger brother was old enough for primary school that Yingcuo finally benefited from accompanying him to class, having spent a decade out of education.
Yingcuo's physical appearance was already close to that of an adult, but she was unable to add and subtract simple sums, nor read the letters of the alphabet.
Dolma, 26, was in a similar situation. She had to study in the sixth grade with classmates fifteen or sixteen years younger than her.
During a year of providing teaching support, Guo not only provided voluntary services, but also collected hundreds of winter quilts for locals and helped pupils' families sell their agricultural products.
Aware of the complexity of the poverty problem, Guo re-planned her charity career and decided to join a non-profit organization.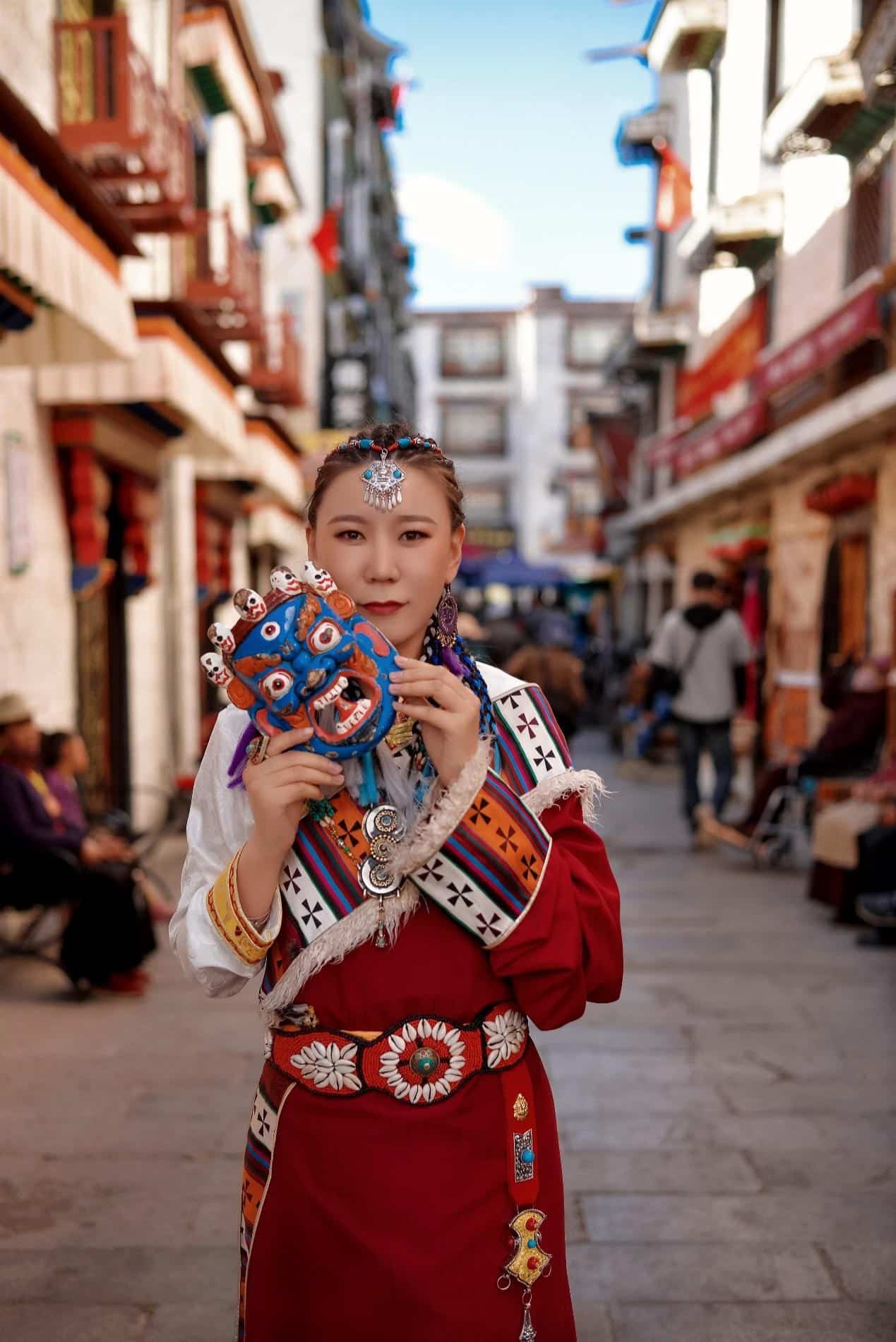 Working at non-profit organizations
In 2017, Guo Song joined the first non-profit organization of her career: China Foundation for Poverty Alleviation (CFPA). Working in this large organization with hundreds of employees, Guo's focus was on fundraising.
In the same year, the Chinese government launched a three-year action plan on poverty eradication to ensure that the campaign of the Targeted Poverty Alleviation Strategy launched in 2015 would be successfully completed by 2020.
Therefore, the whole of society, especially State-owned enterprises, had greater motivation to contribute to the non-profit sector, providing unprecedented opportunities for NPOs to raise funds.
But challenges remained, including how to stand out from a large number of competitors. "The key to dealing with this challenge was to better match the needs of potential donors with the goals of non-profit projects," Guo said.
Guo Song's first client was the China FAW Automobile Group. She tailor-made the Red Flag Dream Self-improvement Class, aimed at providing scholarships for middle school students in underdeveloped areas, to help them complete their high school education and successfully pass the college entrance examination.
This project has now been approved by the client and was officially launched in April the same year. The beneficiary students received not only scholarship funding to cover high school tuition fees, but also guidance on college selection. Among them, those with excellent college entrance examination scores can also get the opportunity to visit big cities and FAW Group factories.
By the end of 2022, the project had covered 108 impoverished counties in 15 provinces, with a total project amount of more than 75 million yuan having been spent, benefiting 10,757 students.
Guo Song worked in CFPA for more than four years and was mainly responsible for fundraising and customer relationship management for large corporate clients.
She successively facilitated the cooperation between CFPA and China Banking and Insurance Regulatory Commission, China Three Gorges Corporation and other clients, and together with her colleagues, achieved a total fundraising amount of over 400 million yuan.
In July 2021, a severe rainstorm occurred in Henan Province. Due to the shortage of manpower, Guo was transferred to help with post-disaster rescue efforts. She witnessed the tragic situation after the disaster and realized the urgency of tackling climate change.
"Climate change is closely related to the future of human society and has become the core of global issues," Guo explained, "More and more companies intend to participate in protecting our planet by cooperating with non-profit organizations."
After ending the Henan flood rescue operation, Guo chose to leave CFPA and join the Society of Entrepreneurs & Ecology Foundation (SEE).
Meeting new challenges
Guo Song has now been working in SEE for almost two years.
Talking about the differences between the two NPOs, she admitted that SEE is much smaller than CFPA in terms of staff numbers, project scale, and resources.
"The fundraising work is now more challenging and requires stronger communication skills, project design capabilities, and other personal skills," Guo said.
She pointed out that among all the environment-related projects, those related to ecological restoration are more likely to be favored by corporate clients, while those related to advocacy always struggle to gain financial backing.
Despite all the difficulties, Guo has successfully brought many corporate donors to SEE in the past two years, including Apple, Hang Seng China, HSBC China, and Ant Group.
After years of experience in the charity sector, Guo has a clearer idea about her future career development: "I'm determined to mobilize more companies to participate in charity, through what I have learned, thought, felt, and realized over the years."