Exact figures for the number of orphans in China are hard to come by, but all estimates run into the hundreds of thousands. Studies suggest that nowadays the majority of the country's orphans have been abandoned by their parents because they suffer from birth defects or serious health issues of one kind or another. A few decades ago many of China's orphans were little girls from rural areas, abandoned due to the combined effect of cultural preferences for boys and family planning policies. Now that such policies are being phased out, the main victims of abandonment have become children with disabilities whose parents feel that they do not have the means to take care of them.
In recent years, the Ministry of Civil Affairs has sponsored the construction of dozens of baby hatches around the country. These are safe places attached to an orphanage where parents can abandon their children without fear of being identified, knowing that a few minutes later the babies will be retrieved and taken care of. Once children with disabilities or medical problems have been taken in by an orphanage however, new problems arise. Most state-run orphanages lack the medical and human resources to deal with such children, who may therefore not receive the care they need and be locked out of opportunities for education and development.
Fortunately a few dedicated charities have stepped in to fill the gap, making a huge impact on the life of abandoned children in China. One of these charities goes by the name of Dew Drops. Dew Drops was established in 2016 by a Chinese national named Lu Lijing (Lily). After working with orphans for 10 years and seeing the ongoing need for specialized care, she decided to start her own project partnering with state-run orphanages to provide life-changing care for abandoned children in China. Lily's work is supported by a US based non-profit, China Little Flower, which was created by American couple Brent and Serena Johnson back in the mid-nineties.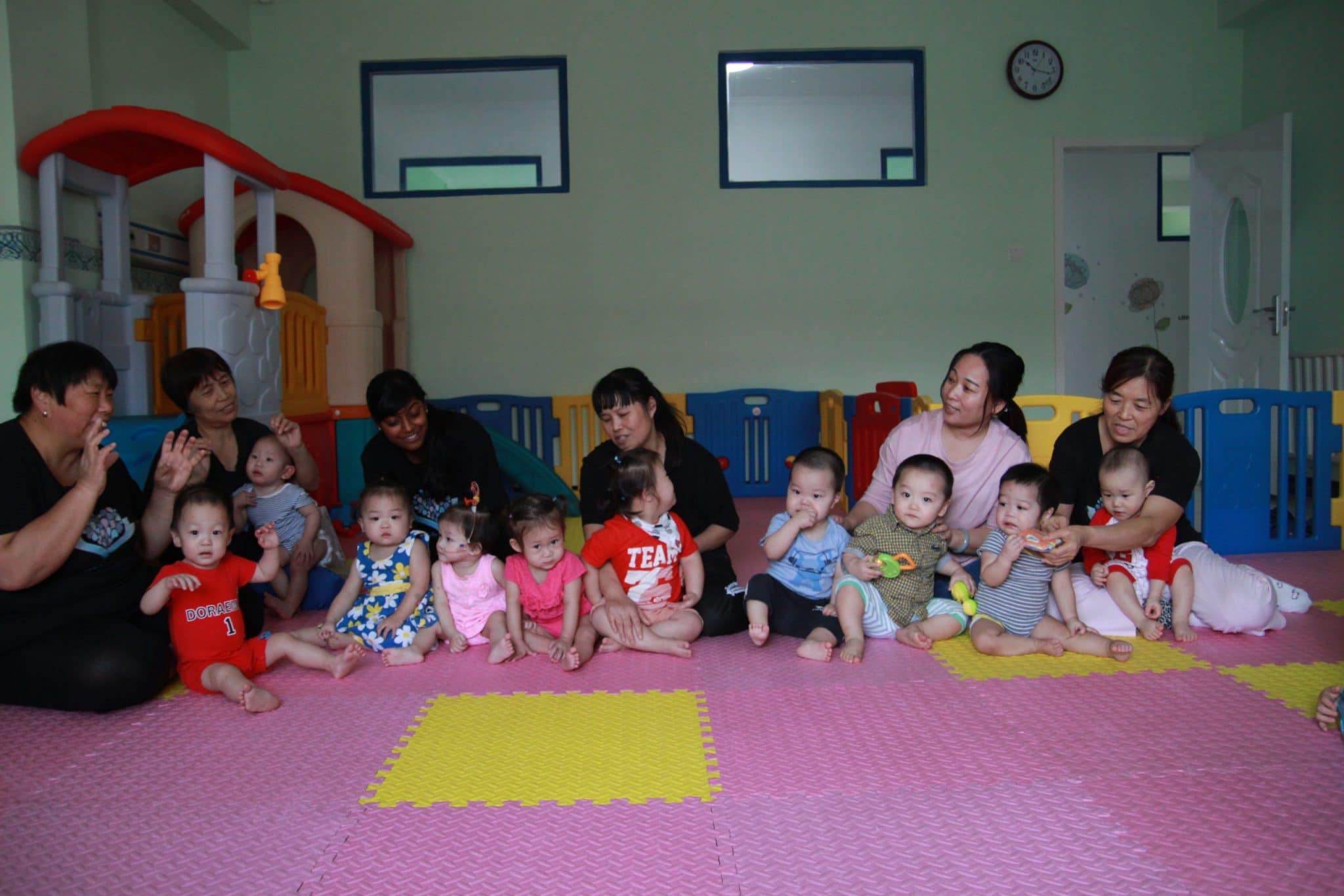 Some of the carers and kids of Dew Drops Little Flower's Beijing children home
Thanks to funding from donations and sponsors, Dew Drops Little Flower has grown into a large organization which includes three different children's homes in Beijing, Inner Mongolia and Shanxi, offering 24/7 care to abandoned children with complex medical conditions.
Visiting Dew Drops Little Flower
I am lucky enough to be visiting Dew Drops Little Flower's Beijing children's home, on a beautiful July day. The home is located in Changping district, in a semi-rural area on the city's northern outskirts, a world away from the bustling downtown. The facilities are to be found on the third floor of an unassuming building, which from the outside gives little clue as to its use. Once inside, however, the environment is cosy and friendly.
My host is Rebekah Bodden, a project manager who has worked with Little Flower for over three years. After I remove my shoes and thoroughly wash my hands to avoid infecting any of the children, Rebekah gives me a tour of the facilities. The spacious and colourful rooms are all home to babies and small children, some lying in cradles napping, some playing with toys or with their care-givers, looking happy and well-looked after. In one room a very young child crawls across the floor under the affectionate eye of a volunteer from the US. Some of the children show obvious signs of the serious medical conditions from which they suffer.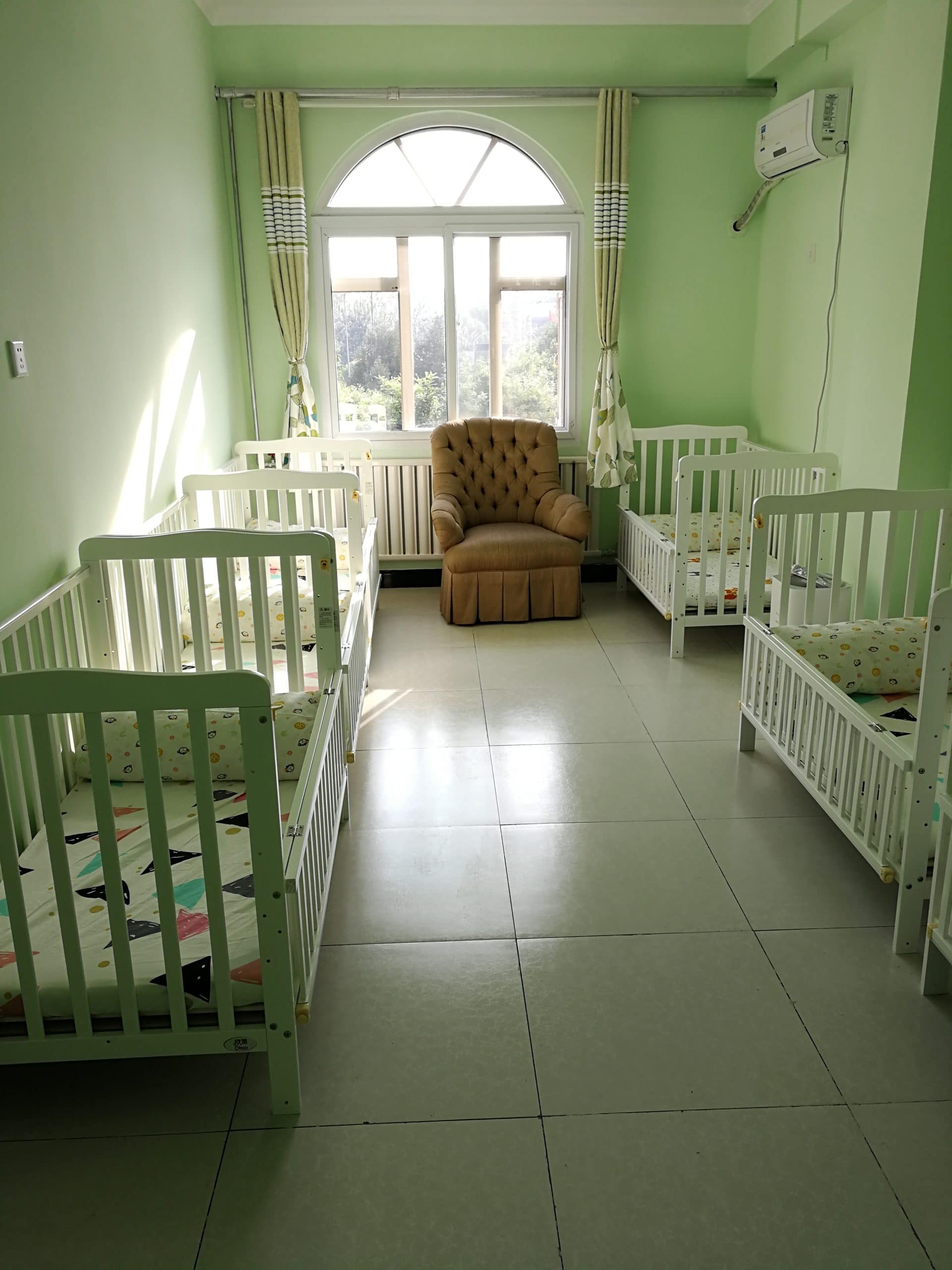 One of the rooms in the children's home
Dew Drops Little Flower partners with state-run orphanages, which often hand children over to it if they are unable to provide them with the specialized care they need. The children, generally ranging from new-borns to ten-year olds, are provided with care including surgeries and therapy, but also a loving environment that can foster a healthy emotional development. The organization employs trained care-givers who provide the children with continuous care and help them form attachments and get past the traumas they may have experienced.
One of the children in the care centre is named Bei. Now four years old, little Bei arrived over a year ago to receive treatment for his clubfeet, which made it difficult to walk. He was put in casts and then transitioned to braces, to help him learn to walk with ease. He is now learning both to walk and to speak, which he could not do when he first arrived. As Rebekah puts it, "it's not just about the physical care, the medical needs, making sure children have food, of course those are all very important, but children also need a nurturing environment. When you give them one-on-one time, kids who might seem like they are hopeless and don't have a future completely change, and they can show you that they're very bright and have a lot of opportunities ahead of them. Little Bei really highlights that. Since he didn't speak he was tough to play with when he first got here to be honest, he was unhappy and he expressed that. The change just within a year has been amazing to see, he loves to colour now, he loves to chat, he has just changed so much and that is very exciting for me."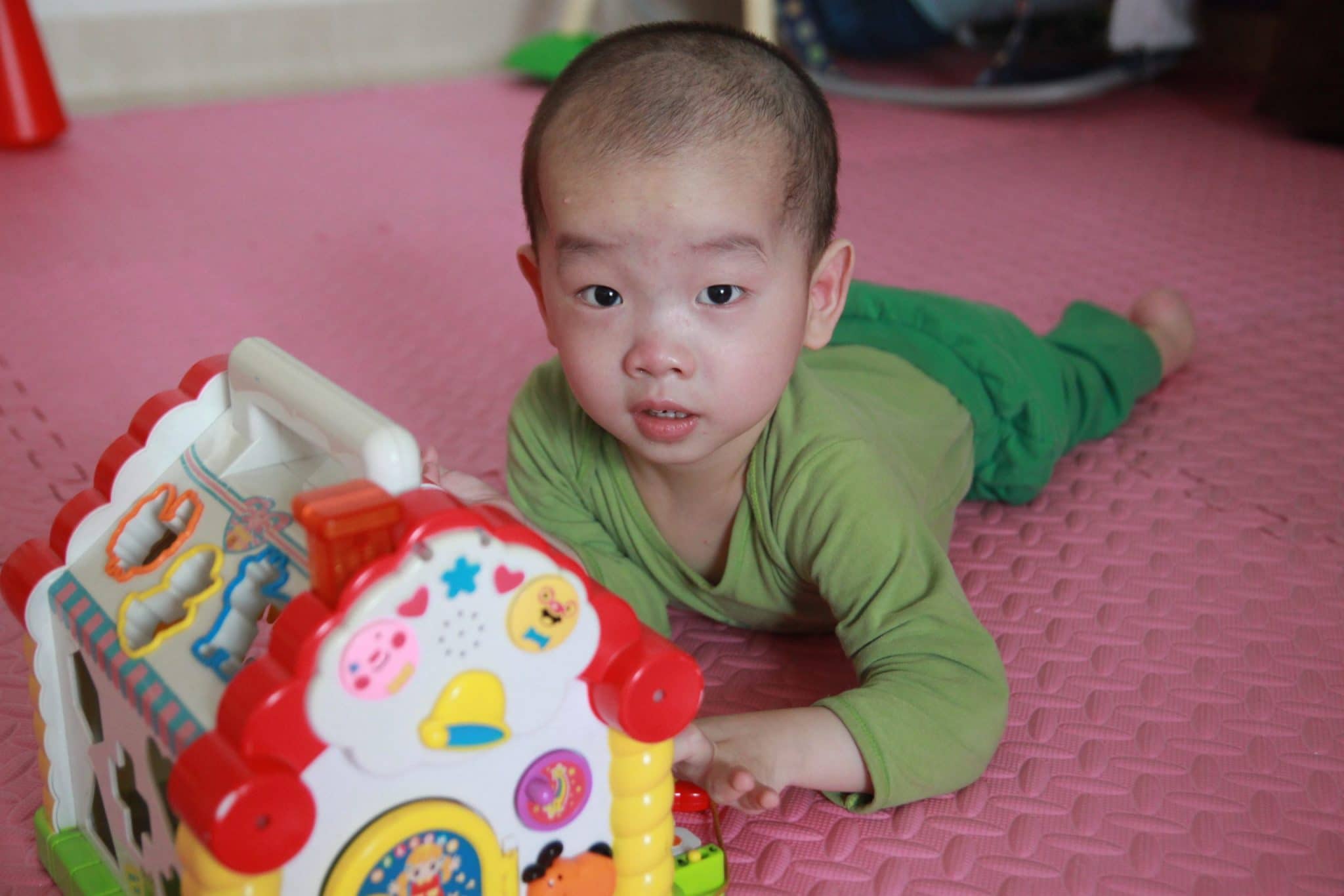 Little Bei in the playroom
Rebekah, who grew up in Hong Kong but also lived in the US before moving to Beijing and starting to work for Little Flower Projects, has various responsibilities within the organization, including fundraising, communications, managing volunteers and working with the children. I ask her if she has seen any evidence of the example set by Little Flower affecting the work practices of the state-run orphanages with which they partner. She answers in the affirmative, saying "when you have kids with difficult medical conditions and orphanages see the changes, they see that a child is now walking, a child that couldn't even hold their head up is now feeding themselves and sitting up thanks to very specialized care as well as physical therapy, education, opportunities, when they see that you engage with the children, that they are not just sitting there but you are actually talking and interacting with them and encouraging them to develop, change can happen. I think we do see the ripple effects of the work that we are doing."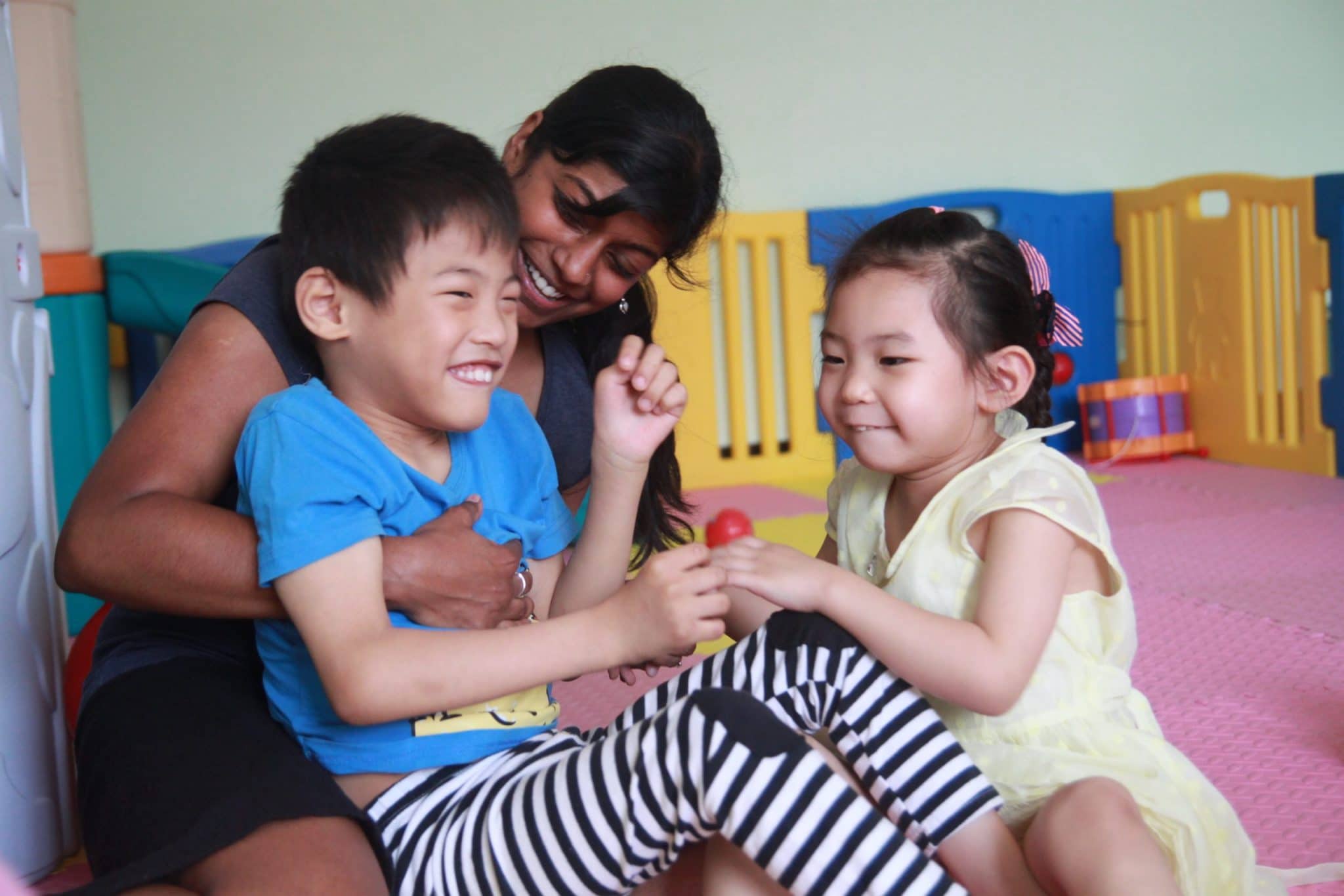 Rebekah playing with some of the children under the care of Dew Drops Little Flowers
The Dew Drops Little Flower facilities include a very nice classroom where the slightly older kids can start to develop their learning skills, and some rooms where the families of disadvantaged children can stay when they visit Beijing to seek medical treatment for their kids. Many of the orphans who pass through the center eventually end up being adopted by a loving family, very often in another country. However it is the care and treatment they receive while staying in Little Flower that allows them to have a future.
Near the entrance to the children's home, the photos of the children currently staying there are on display. Rebekah recounts the stories of a few more of them, children with problems like cleft palates or congenital heart defects who were quite probably rescued from what would have been a life of disability and marginalization through Little Flower's work. My visit left me impressed by the important work this organization is doing, work which has already changed the lives of countless abandoned children.
For ways to help Dew Drops Little Flower, please visit their website (https://www.dewdropslittleflower.org/) and follow their Facebook and Instagram @littleflowerprojects