During the recent floods in Henan Province, a new phenomenon quickly emerged in the disaster relief efforts: charitable foundations providing support to rescue teams. And it's thought that this model might now become more common during future disasters.
On Aug 27, the Secretariat of the China Foundation Development Forum and the China NGO Center for Disaster Risk Reduction (CNCDRR) jointly organized a virtual forum, inviting foundations and rescue teams who supported or participated in the relief efforts to share their experiences in Henan. The event helped to shed light on the strengths and weaknesses of collaboration efforts between foundations and rescue teams during the floods.
Many foundations were quickly able to raise large amounts of money in the aftermath of the disaster, enabling them to purchase daily necessities and support rescue teams. Yet a lack of high-quality information meant that money did not always end up in the right places.  He Chenxia, deputy secretary-general of Zhejiang Women and Children's Fund, told the forum that some villages were reported to have insufficient goods, but in reality, they had received donations that far exceeded their needs.
Cui Changyang, deputy leader of the Zibo Red Wolf Emergence Rescue Team reflected on similar issues. "One time, we arrived in a certain village that we'd heard needed help, so our teams went there immediately. Once we arrived, we realised that there were more than 20 rescue teams there, and that goods donated to the village were piled 10 meters high."
Between July 29 and Aug 4, a total of 704 rescue teams applied for funds from the "7.20 Henan Flood Rescue Team Support Plan", which was set up by the CNCDRR. Facing a huge number of applications, the organization had difficulty selecting which teams were best qualified to conduct relief work, due to the impractical selection standards initially designed by the organisation. On Aug 27, the committee finally selected 115 teams out of 704 and spent 40 percent of its total budget on funding rescue teams.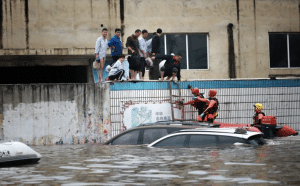 Xie Jing, director general of the CNCDRR, said that although they had some requirements for applicants, how to properly evaluate a team's qualifications, likely efficiency and professionalism still poses the greatest challenge to the committee. "I believe having a sectoral standard for rescue teams will help foundations to make better funding decisions," said Xie.
But there are some standards for rescue teams, explained Hao Nan, director of Zhuoming Disaster Information Service Centre. "Since 2017, Zhuoming has been involved in drafting the 'Social Emergency Force Classification and Evaluation Standards' directed by the China Disaster Defence Association, and the standards are expected to be published this year," he said. However, Hao pointed out that the cost of evaluating a rescue team is high. "In the past, evaluations of mid-sized rescue teams in Shenzhen would cost 300,000 yuan ($46,474)."
Regarding the selection of rescue teams, Hao explained the significance of improving levels of professionalism. Data collected by his organisation shows that among more than 1,000 teams that worked in Henan, only 300 are qualified as "professional rescue teams". But he stressed that other types of teams are also important for disaster relief and should not be overlooked. "Disaster relief does not mean that all the rescue teams involved need to be 'professional', community teams and local teams should be encouraged to join in as well. In areas that are at high risk of experiencing a disaster, it should be mandatory for every town and street to have at least one local rescue force."
Problems may also occur when rescue teams manage to obtain funding from foundations. During the Henan floods, many teams collaborated with foundations for the first time and they often knew little about how to receive donations. Teams that lacked administration officers were reported to have encountered problems signing contracts and issuing receipts, which slowed down the progress of getting funds.
Based on his observations, Hao thinks that rescue teams should enhance their management capacities as a matter of urgency, including by hiring professional administration officers. Zhang Feng, manager of the Chinese Red Cross Foundation's Rescue Team Guarantee Programme, believes that receiving a greater number of donations during the floods has given rescue teams opportunities to improve their internal structures and policies.
During the event, many participants said that future donations from foundations should focus on the complete disaster management cycle and rescue teams' long-term development.
Lin Zhaoxing, an independent consultant for the Rescue Team Support Plan of the Beijing Chunmiao Charity Foundation, said that his foundation has already helped rescue teams in Shandong Province and Henan Province make capacity building plans for the following year, including skills improvement, public education programmes and reporting on each rescue project. Many members of rescue teams attending the forum reflected that information sharing was key to improving communication between teams.