Editor's note:
The China Development Brief (CDB) Forum 2020 was held in Beijing on December 9, 2020 and focused on "Challenges and Responses for Cross-Border Philanthropy under COVID-19."  Leaders from NGOS and experts in relevant fields discussed how the COVID-19 pandemic has affected organisations' survival and development, grassroots-level struggles faced by communities, and the pursuit of social wellbeing. Below is an excerpt from an abridged compilation of statements shared by guests participating in Roundtable Discussion 3.
This excerpt includes the second part of a conversation on the successes and challenges of Chinese NGOs working abroad. Associate Professor Tao Chuanjin from the School of Social Development and Public Policy at Beijing Normal University facilitated the discussion joined by Wu Peng, director of international development at the China Foundation for Poverty Alleviation (CFPA); Li Haiying, specialist at the Secretariat of China Council for International Cooperation on Environment and Development (CCICED); Liu Zhihua, executive secretary general of the Beijing Peaceland Foundation; Qian Xiaofeng, senior director of regional development at the Amity Foundation; Xiao Qing, deputy secretary general of the China Biodiversity Conservation and Green Development Foundation; Pan Yu, executive director of Hunan Aimier; and Ji Lin, secretary general for project development at the Global Environmental Institute. Professor Tao continued the discussion by further exploring the vision of the Amity Foundation.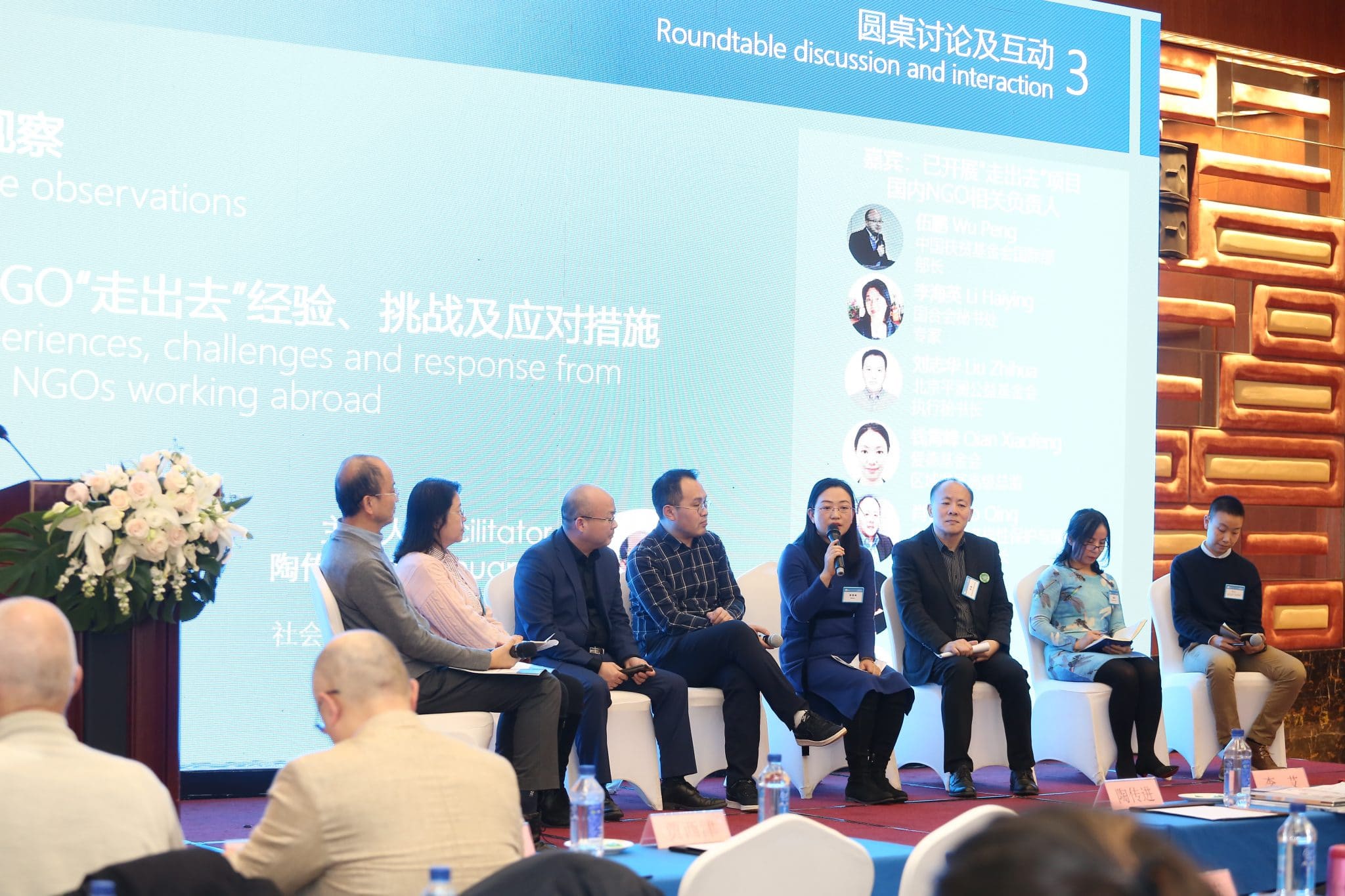 Tao Chuanjin: With humanitarianism as an entry point, what is the future vision of Amity's international programme? What has Amity done that gives it an edge in terms of using and raising funds abroad?
Qiao Xiaofeng: In the future we hope to develop more development programmes. Post-disaster emergency response represents a short phase, after which there is post-disaster reconstruction, and before which there is disaster mitigation and preparation. In China our programmes cover the entire process, and this also applies to our programmes abroad, but how far the programmes can go depends on many factors. Regarding the basis for our advantages, as our international programmes are based on programmes carried out domestically, the experience of domestic programmes certainly represents a very important edge. The culture and values that Amity has developed over the past three decades are also crucial, and they enable us to expand more steadily overseas.
Xiao Qing: I am from China Biodiversity Conservation and Green Development Foundation (CBCDGF), which is a class I society under the China Association for Science and Technology. In 2017, we set up a working committee on "going overseas," but our vision is not focused on "going overseas."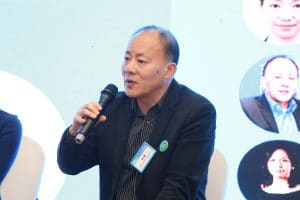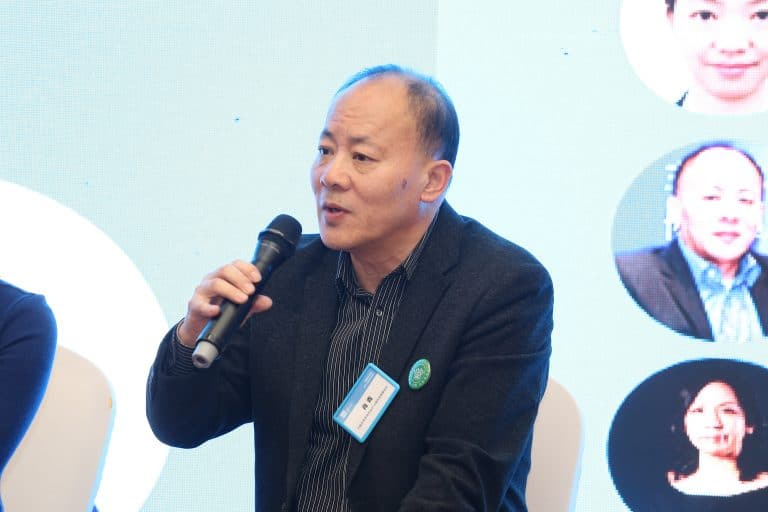 In line with the Belt and Road Initiative (BRI) to engage in global governance, we have been attending meetings of numerous international organisations as observers. With the awareness of "going abroad," we are nevertheless primarily engaged in research and discussions of major international issues, such as climate change.
We have done relatively little in terms of developing programmes overseas in local communities, so we have little to share about experiences, challenges and measures. As an example, in August 2019, Germany's minister of the environment, nature conservation and nuclear safety visited China and we were invited by the embassy to participate in the meeting. The minister singled me out from the list of invited guests because he wanted to learn about Chinese NGOs, and communication like this was a special surprise to him. Our work mainly focuses on the area of academic research, including working with leading international organisations to identify ways to better protect pangolins. The experience or challenges of Chinese NGOs are closely related to human resources which need to be further enhanced before we can go abroad. For CBCGDF, going overseas is about learning from international organisations and working with them for mutual exchange and reinforcement.
Tao Chuanjin: One thing that I particularly agree with is even though the China Biodiversity Conservation and Green Development Foundation has no experience of "going overseas," it is evident the general trend of going overseas in China is extremely positive and in such an environment, things can be done in a pleasant, smooth and effective way. In this friendly environment, the government is encouraging NGOs to go abroad, without any conditions attached. Therefore, even if the foundation hasn't yet "gone abroad," it can still provide technical support as an important academic society under the China Association for Science and Technology. Even if there are no concrete programmes to be carried out, it has provided valuable information and a forward-looking vision.
Pan Yu: Hello everyone. I am Pan Yu from Hunan Aimier. As a local grassroots organisation in China, we have already gone abroad and organised programmes. I am the founder of Hunan Aimier, and the executive director of Hunan Aiyu Education Consulting Co. Established in 1999, Aimier aims to support the education and development of young people and provide services to children with disabilities.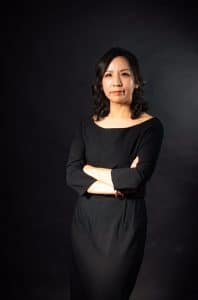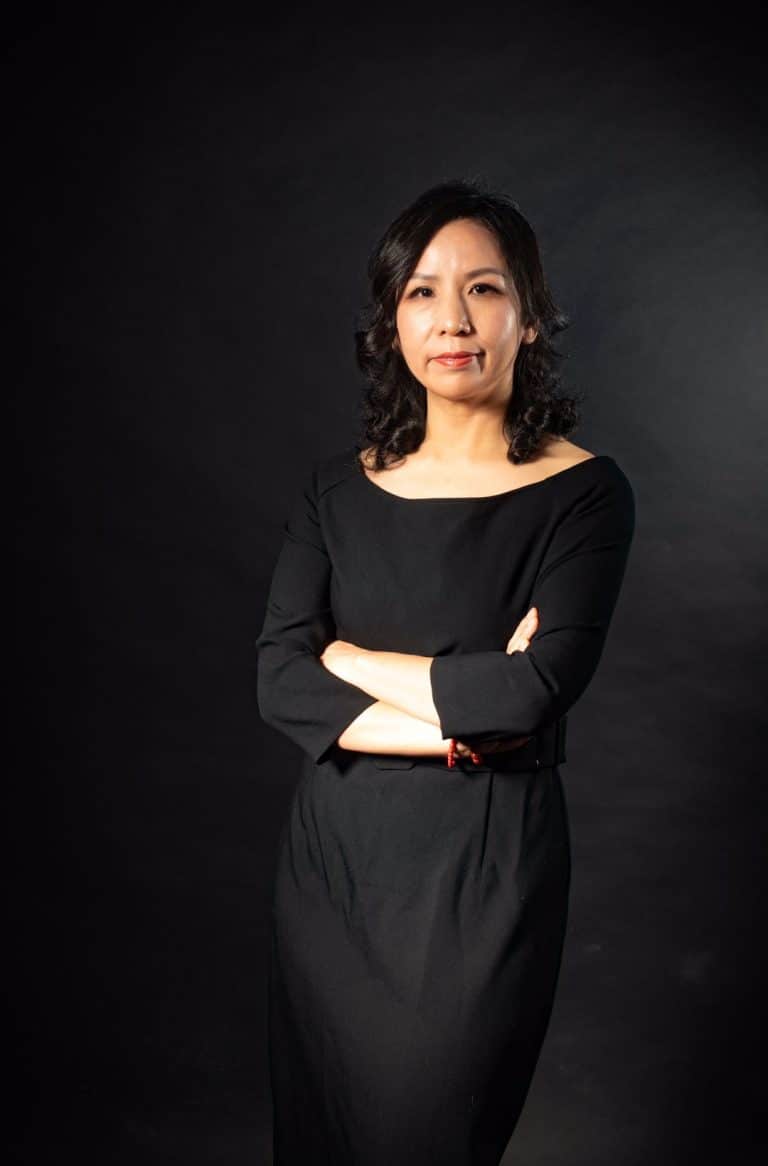 In 2018, we brought some Chinese children to visit Cambodia and provided services, and we chose to work with Cambodian YMCA there. We did not have a thorough understanding of the purpose and idea for the activities, and there was a gap between what we achieved and what we expected to achieve in the end. However, the children were exposed to local customs and society of Cambodia, as one of the BRI countries.
I think if we are to keep going abroad in the future, the areas that need to be changed and adapted are: firstly, the staff members should possess not only language skills, but also an international perspective. Secondly, there needs to be professional activity organisers; it would be better to have leaders experienced in working with youths in addition to the resources of Aimier.
Tao Chuanjin: As a grassroots organisation, why did you choose to "go out" to Cambodia?
Pan Yu: After three decades of development, China has reached a stage where we have accumulated experience based on learning from other countries and now, we can make some attempts to replicate our experience overseas. Secondly, it is related to the top-tier design of the state for the development plan of the BRI countries. Thirdly, we have accumulated certain resources, such as international partnerships and cooperation with BRI countries, and these resources have given us opportunities to operate more experiments.
Tao Chuanjin: With regard to the future development plan, do you focus on scaling up or reinforcement?
Pan Yu: The programme was discontinued in 2020. However, according to the feedback we received last year, parents generally acknowledged the programme positively. For example, one of the youngest children in the team, who had previously been quite rebellious and unmotivated to study at school, came back from the participatory tour with two significant changes. This 5th grade child used to be a picky eater. The team visited a Christian service centre in Cambodia where there were more than 30 children from slums. Our children witnessed the daily life of the poor children, which moved them deeply when they saw their peers who barely had clothes on and visited the centre every day for a meal. This has been recognised by many Chinese parents who believe their children nowadays are too privileged and need to see and understand the life of people of different countries and groups.
Ji Lin: Hello everyone. I am Ji Lin from the Global Environmental Institute (GEI). Founded in Beijing in 2004, GEI has been focusing on international environmental issues since 2005 and 2006, mainly in response to the changes and needs under the overall context at that time. Since 2001, more and more Chinese companies have gone abroad. Local communities and local NGOs in the host countries are concerned about the environmental and social issues that Chinese companies may bring to the local people and communities, and want to assess and understand what roles Chinese NGOs can play.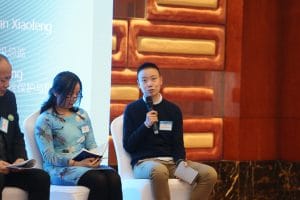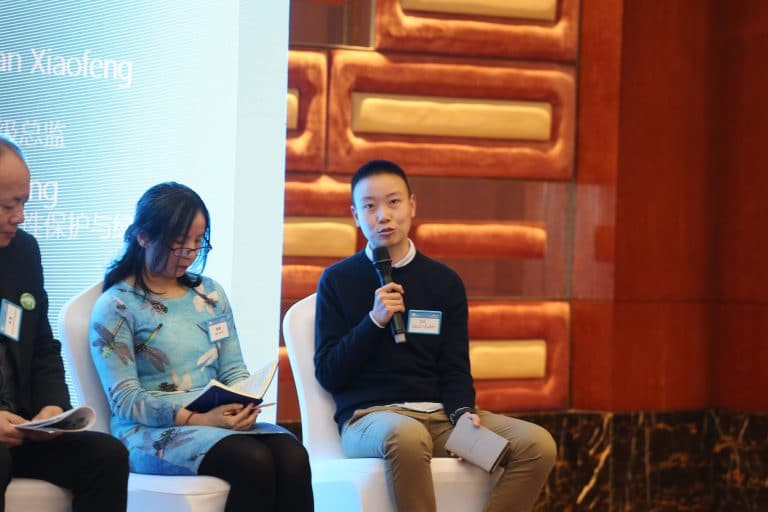 All of our overseas programmes, including those focusing on low-carbon development and marine conservation, are carried out in Southeast Asia, particularly in Myanmar, Indonesia and Vietnam. We have found other developing countries are facing problems similar to those in China; whether in terms of decisions on environmental protection and economic development, or raising standards, there are many experiences from which these countries can learn from China. Therefore, we are eager to introduce domestic good practices, including models and approaches for new energy development and community development, to other countries, and work with local NGOs or governments to replicate the good practices with locally appropriated models and methods. Since 2005, we have been doing things related to "going overseas." In the past, it was good practices from Europe and the U.S. that were introduced to China, and now we are introducing good practices and experiences from China to other developing countries.
Secondly, we attach great importance to responding to local needs and how to communicate with other stakeholders. Our international programmes account for around 70 to 80% of our operations, while funding from overseas for domestic programmes, especially on environmental protection, is decreasing, because it is held that China should solves these problems. For international programmes, funding can be obtained more easily, as more and more funders pay attention to China's international influence and hope to work with China to improve its climate and environment.
Tao Chuanjin: Please briefly answer this question: your success depends on a set of good strategies and approaches learned from Europe and the U.S. So how have you complemented or adapted those strategies and approaches?
Ji Lin: Firstly, we want to identify problems before the government does. We want to play the role of a think tank and identify a simple issue; we will then find a viable solution from the international community, communicate with stakeholders to see if it is possible to replicate it locally, and if possible, we can have one or two pilot schemes, and then share more details with relevant decision-making bodies.
For environmental protection we have developed a model of conservation agreement, an agreement between communities and nature reserves. Once an area is preserved, we will in turn need to address issues of economic development. We will support the economic development in the preserved area by providing some means of economic development to the herders, such as training on beekeeping, traditional craftwork and so on. Locals can participate in any training they desire. Finally, we support locals with market expansion. Models related to market expansion learned from Latin America may not be totally suitable with models from China. Some of the parts need discussion with experts and local stakeholders, such as which model is suitable for the local land management in Myanmar, as the land is privately owned there. We will also introduce these ideas and models to local communities, so they can consider how they will better apply these models which require appropriate adaptations.
Tao Chuanjin: Finally, I will mention three things and ask you to consider which one is of the most significance. The first is the path of going abroad, involving international customs and local laws and regulations; the second is the problem-solving model; and the third is people's hearts and minds, i.e., communicating with people so they accept me and I accept them. These constitute a process for going overseas. Please rank these three elements and explain your choices in one sentence. In short, they are the path, the professional methods and the heart.
Ji Lin: I think the heart is the most important factor, followed by professional practice, and then the background or path.
Pan Yu: The heart, followed by the professional team, and then the path.
Xiao Qing: Number one, number three and number two. In the case that claims for compensation arise in the BRI countries as a result of failure to comply with local laws, economic losses will be incurred to both Chinese and foreign parties.
Qian Xiaofeng: My answer is number one, number two and number three. There should be a clear path, professional approaches, and ultimately effective mutual communication and understanding.
Liu Zhihua: Number three, number two and number one. This is related to the characteristics of our work, as we are primarily engaged in emergency response. Therefore, we prioritise communication with people, including partners, the government and beneficiaries, and once trust is established things can be done more easily.
Wu Peng: Number three, number two and number one. First of all, we have to meet local needs. We have four principles, namely, respect for the local people, being demand-oriented, partnership, and sustainability.
Li Haiying: I think it's number two, number three and number one. First of all, it's professionalism, which is very important. The second thing is to find a good path. These are the prerequisites for wining people's hearts.
Tao Chuanjin: These suggest that all the models mentioned are important. A round of applause to everyone for sharing!