Editor's note
this is an abridged and adapted translation of a report published on Shanda Net (善大网) on the 28th of February. It announces the creation of the first Party school for social organizations in Beijing.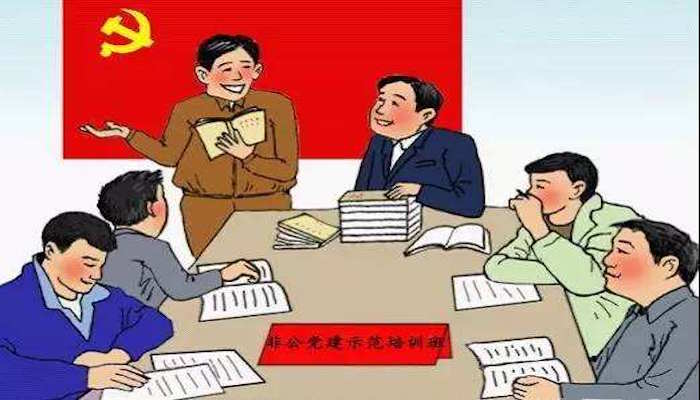 On February 28 the "Hongyan Social Organization Party School" was officially established in Beijing, in order to implement the important instructions on "Strengthening the Party Building Work of Social Organizations" given by General Secretary Xi Jinping at the National Organizational Work Conference, encourage active and innovative party building and promote the party organizations of Beijing's social organizations to play their role.
The party school was initiated and launched by the Third Joint Beijing Party Committee of the social service organization in Beijing in conjunction with the Beijing Aviation Science Promotion Center and the Beijing Qingyuan Creative Social Organization Capacity Building and Evaluation Promotion Center. The event marked two firsts: the establishment of the first social organizations' party school in Beijing and the first classes for members of social organizations who are enthusiastic about entering the party. Since last year, the "Hongyan Plan" initiated by the Party Branch of the Aerospace Center has been promoted and supported by the Third Joint Party Committee of social service organizations in Beijing, and has received assistance from the Beijing Municipal Civil Affairs Bureau. Qingyuan Chuang and his team provided research about grassroots governance, dispensing practical guidance for the community and the two new organizations to carry out party building work.
The preparation work of the "Hongyan Social Organization Party School" was also strongly supported by the Party Working Committee of Guangnei Street, Xicheng District, Beijing, the Party School of Beijing Xicheng District Party Committee and the Party School of Daxing District, Beijing. The cooperative unit provides a professional faculty team and a standard teaching place to ensure the orderly development of the party school work.
The "Hongyan Social Organization Party School" mainly has three working directions: First of all, to carry out party class training for social organization leaders and branch secretaries, and to assist social organizations to develop under the leadership of the party. Second, training for outstanding talents who actively join the party in the social organization and contribute to the party and the people. The third is to promote business, learning and development through party building, accelerate the integration of social organizations, and together build up a harmonious society.
This year marks the one hundred year anniversary of the "May 4th" movement. Under the leadership of the Party Construction Office of the Comprehensive Party Committee of the Beijing Municipal Civil Affairs Bureau, the "Hongyan Social Organization Party School" will carry out the work of the social organization youth publicity propaganda group to inform and educate the public about social organizations and public welfare. At the same time, more residential districts will be invited to co-create a social organizations' party school, build a social organization service platform for communities, and provide comprehensive social services.