This is the second part of an interview with Felicia Lee, founder of R.A. Coffee, a special café set up to train deaf people how to bake. To read part one, click here.
Some people with disabilities have little trust in society and other people. Their experiences of discrimination and mistreatment by strangers, employers and sometimes, family members can leave deep scars.
"We have a staff member called Lydia (pseudonym) who comes from Beijing and used to work in a state-owned enterprise, before being made redundant because the company needed to reduce its staff," Lee told CDB. "This decision really upset her and it was difficult for her to find another full-time job as a person with a hearing impairment." To help her daughter, Lydia's mother contacted the Disabled Persons' Association (DPA) in Haidian District, Beijing, which was able to enrol her in a handful of baking classes. After completing the classes, Lydia decided that she wanted to find a new job using the skills she had learned — that was when the DPA contacted R. A. Coffee.
While the café performs a vital social service, it is not officially registered as an NGO, so the DPA is unable to provide it with any form of funding. But informal collaboration still takes place and there are times when the DPA recommends people for a job. Sometimes it will even cover their accommodation costs.
For Lee, profits have been elusive. When Lydia was recommended to the café, it was not supposed to be hiring any new staff or apprentices. The business had just about been making ends meet for the past six months or so and prior to that, it had mostly operated at a loss. But the entrepreneur finds it hard to say no.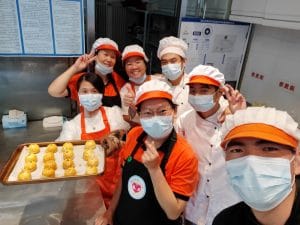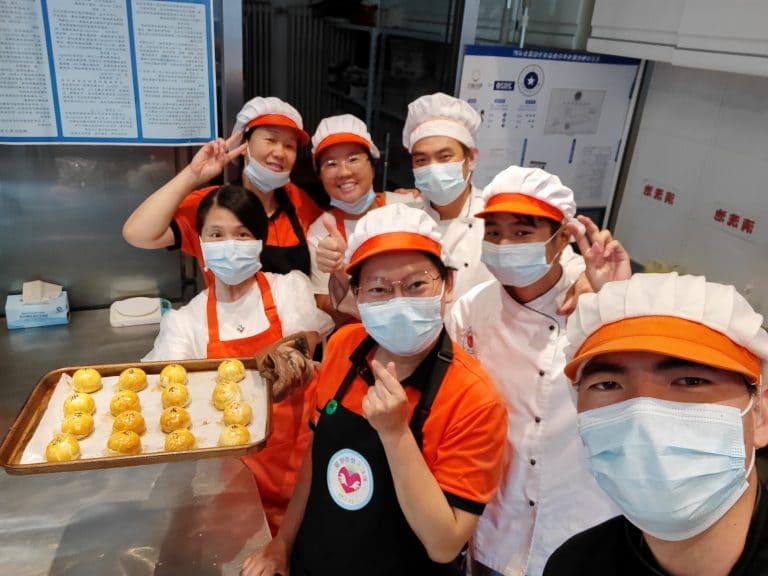 Most of the café's staff start out as apprentices. For Lee, training can be expensive and mentally demanding. When she was the only teacher in the café, it could take a very long time for apprentices to master a single dessert, and at least half a year to complete the program. Communication is understandably difficult, meaning that apprentices need to learn by "observing". But, as some of the former apprentices have now gone on to become bakers, they are able to help Lee teach and cut down on the length of time required for training. But another obstacle to training is less obvious – and somewhat depressing.
"In general, people in the deaf community are not familiar with our society, and may have been deeply hurt by others. Therefore, they do not trust themselves or other people easily. Because they cannot hear what people say, they are prone to guessing things in a negative way. That makes it difficult to get close to them. We have to spend a very long period of time getting to know them, and only then are they able to open their hearts and trust you. That's the point where we can start training them," she said. Lee freely admits that it took almost four years for her to build a deep level of trust with her first batch of apprentices. But after spending so much time with them, she has become a trusted friend and mentor – almost like a family member.
Many trainees encounter difficulties to begin with, making it easy for them to want to give up. But Lee is on hand to provide crucial encouragement: "I will calm them down and encourage them to keep pushing on." She tries to avoid criticizing apprentices for making mistakes; instead, she praises the things they have done well before gently and patiently suggesting areas for improvement. Inevitably, many of the apprentices will have encountered rudeness and impatience during their lives – so negative experiences at work can be harder to bounce back from than for an able-bodied person. Lee mentioned that when this happens, it is important for her to stay strong for them and point out positive things. "Giving up might be the easy option, but I want them to keep going and to know that I will not give up on them."
Completing the training is not the end of their journey, Lee explained. Once apprentices officially become bakers, they are expected to find employment opportunities, either in the café or elsewhere, to make a living and support themselves and their family. Hopefully, they will be able to better integrate into society as they continue to serve customers and work with colleagues every day.
"In the café, we always focus on how to help our deaf apprentices and staff develop skills to interact with customers, other staff and volunteers. We want our apprentices and staff to feel included by society and be confident and active in connecting with other people." In addition, R. A. Coffee has also set up a chain of shops in different areas of Beijing, each with two or three staff and a small group of volunteers managing its daily operations. This is a further step designed to push staff out of their comfort zones and serve people and communities nearby.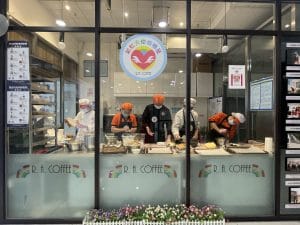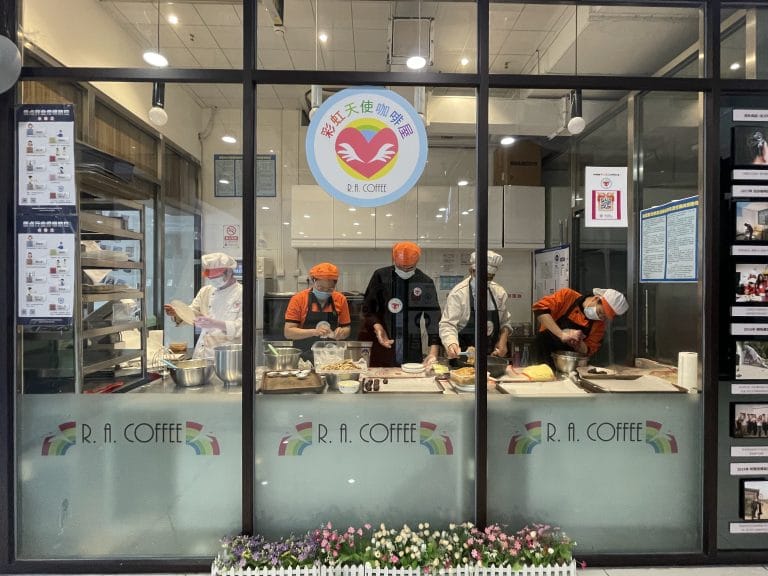 As far as its menu is concerned, the café currently offers 15 types of dessert. Compared to similar businesses, its prices are relatively high. Although cutting costs may increase profit margins, Lee insists on using the finest, high-quality ingredients for her products. At present, her customers are mainly business clients who support the values and mission of her business.
"Over the years, businesses have shown their support by frequently offering us funding to train apprentices and equip them with marketable skills. At the same time, businesses help us by promoting our products among their partners and clients."
One such business is Advanced Micro Devices (AMD), located in Haidian District. After learning about the work of R. A. Coffee, the company became a frequent client and often buys desserts as gifts to send to business partners, with each featuring a small insert telling the story of the café. Sometimes, Lee and her staff will also be invited by clients to join charitable events, enabling their story to be shared with a larger audience.
Many businesses have suffered during the COVID-19 pandemic – and R. A. Coffee is no exception. Fresh outbreaks in Beijing have driven people away from public spaces, and meetings and events often have to be cancelled or postponed to a later date. This has inevitably had a knock-on effect on the café, and for many months Lee had to pay the bills from her own pocket. Her difficulties were compounded after a trip to Taiwan last year. Returning to the mainland proved difficult thanks to travel restrictions, and some of her volunteers suggested it might be best if she didn't come back. But Lee managed to return and continues to persist with her work, knowing what it means to the deaf community.
"R. A. Coffee seems like a place where people with hearing impairments can come, learn how to bake and hopefully use what they've learnt to make a living. But our deaf apprentices and staff can gain more out of it than that. They can find their own place and from there, gain confidence in themselves and respect from other people. For myself, the café is where people can connect and build relationships with sincerity, respect, trust and love. It serves as a bridge connecting the able-bodied and the deaf, gradually reducing prejudices, misunderstandings and distance."
Despite all the challenges, once the pandemic ends Lee plans to expand.
"Wherever we have shops we attract customers, business clients, volunteers and the deaf. The involvement of all groups helps to push for changes in the lives of those who are hard of hearing."